Last Monday, England won the Ashes. (If I tell myself this often enough, I will eventually believe it.) And when I mentioned this fact (for fact it is) here, I mentioned also the rather fine new stand that they have just built at the Oval, where that final clinching game of the series was played.
Today I walked across the river to the Oval and took some photos of this new stand. And I have done a posting about how it looks at my personal blog, together with some pictures snapped from the TV coverage. And then I found this really great picture of it that someone else took: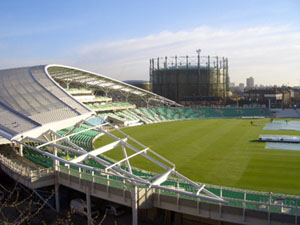 Last Tuesday, London celebrated England winning the Ashes, and I also went along and took photos of that. They are not perfect photos, if only because I had such a lousy view of the proceedings. I ended up taking a lot of snaps of the giant TV screen they had behind everything, just as if I had been at home. But, this giant screen yielded some fine imagery, with no interference patterns or surprise black horizontal splodges of the kind that I get when I photo my TV at home, and I am very happy with the photos I did manage to take. You can see my favourites ones here.
Some of favourite pictures were of the words they stuck up for us all to sing: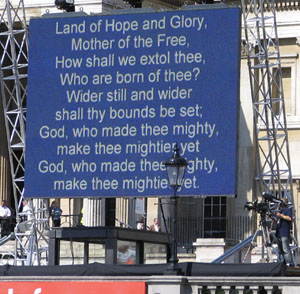 So there you have it. England won the Ashes because God was on our side.