Beneath and beyond all the fretting we're all now doing about The Virus, the onward march of technology continues.
I get emails from Google about advances in 3D printing, and each email contains lots of links, far more links than in any other Google emails I get on other subjects.
Links like this one, to a report about some newly contrived magnets: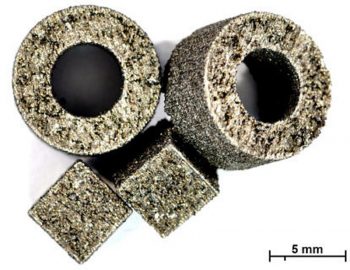 Note the bit at the bottom on the right, where you learn the size of these things. They are very small.
Why are miniature magnets like this so important? And why do they have to be 3D printed? That's what ignorami like me want to know. The anonymous writer of the report accordingly begins it thus:
Magnetic materials are an important component of mechatronic devices such as wind power stations, electric motors, sensors and magnetic switch systems. Magnets are usually produced using rare earths and conventional manufacturing methods. …
A bit later he says:
Permanent magnets are incorporated into a number of mechatronic applications. Traditional manufacturing methods such as sintering or injection moulding are not always able to cope with increasing miniaturisation and the resulting geometric requirements for magnets, and this is a trend which is sent to continue in the future. Additive manufacturing processes offer the necessary freedom of design. …
I had to look up sintering. Blog and learn.
→ Continue reading: Thoughts provoked by some 3D printed miniature magnets