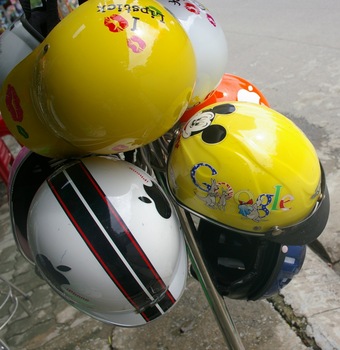 Recently, I was wandering along a back street in the former Vietnamese Imperial capital of Huế, perhaps best known outside Vietnam as the site of one of the bloodier battles of the Vietnam War. This was a street full of the sort of shops that would once been have referred to as a "General Stores" in English: shops full of many goods that are likely to be useful to many people, but that sometimes seem to have a tenuous relation to one another.
In such a store, I stopped and started photographing a colourful display of western trademark violating motorcycle helmets. After I had been doing this for a short while, the shopkeeper came up to me, basically just to say hello. He didn't mind me photographing his merchandise and was not putting any pressure on me to buy anything, but he clearly didn't get Westerners wandering into his shop to take photographs every day. Huế is a tourist destination, but despite its easy accessibility (the Americans having built an airport) it is not nearly as big an attraction as places such as the nearby ancient town of Hoi An. One does not have to walk far from the centre of town for the presence of foreigners to be rare.
What happened next was more interesting. He gestured for his son to come over and pose for a photograph. The lad must have been only about two years old, but there was a serious amount of proud father syndrome on display. This gentleman wanted the whole world to see how proud a father he was. So they posed and I took a photo. Alas, the white balance isn't perfect.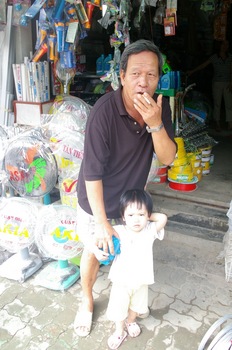 As an added bonus, the father decided that he would pose for the photograph with a cigarette in his mouth.
Of course, this gentleman had no idea how many western taboos he was breaking. If he had, I am sure he would have thought we were all idiots. Quite accurately.