It's now that time of the year between Christmas and the New Year, when we here sometimes do big postings with lots of photos. Usually, these have been retrospective looks back at the year nearly concluded. I did photo-postings like this in 2013, in 2015, and in 2017. And see also other such photo-postings here in the past, like this one in 2014, and this one way back in 2006.
We're not the only ones doing these retro-postings about the nearly-gone year. A few days back an email incame from David Thompson, flagging up the posting he did summarising his 2019, which will already have been much read on account of Instapundit already having linked to it. And one of Thompson's commenters mentioned a similar posting by Christopher Snowdon, mostly about politicians wanting to tell us what not to eat, drink or smoke.
So, here's another 2019 retrospective. But it's not a look back at the whole of 2019, merely a look back at a walk I took in London, on Christmas Day 2019. I like to photo-walk in London on Christmas Day, especially if the weather is as great as it was that Day.
I began my walk by going to Victoria Street and turning right, towards Westminster Abbey, where I did what I often do around Westminster Abbey. I photoed my fellow digital photographers, who were photoing Westminster Abbey: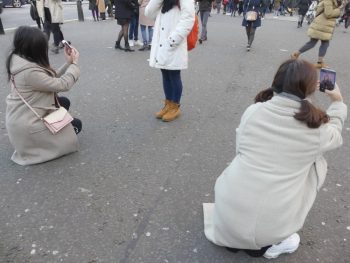 The lady on the left as we look is using one of those small but dedicated digital cameras, of the sort that nobody buys now and hardly anyone even uses now, because the logical thing, unless you want something like 25x zoom like I do, or really great photos that you could blow up and hang in an art gallery, is to use a mobile phone. But she is still using her tiny camera from about a decade ago. Odd.
Next some giant purple Christmas tree balls, outside the Queen Elizabeth II Conference Centre.