I am in my kitchen, reporting on one of my last-Friday-of-the-month meetings. It is still in full swing. Most of the London events you read about on Samizdata are booze-ups at Perry's, and at my meetings, there is also booze. From 9.30 pm until around midnight the drink flows and the conversation bubbles merrily, and I can hear it bubbling now. But there is also, always, an agenda. Starting at 8 pm, and proceeding until 9.30 pm, there is a speaker lead discussion.
I have been hosting these things since the late 1980s, and there a moment, a few years back, when I was finding them something of a drag to organise. Only the enormous inconvenience that would necessarily have continued, every last Friday of the month, even if I had stopped holding these meetings, in the form of regulars knocking on my door and demanding entry to a non-existent event and then having to be diverted (which might not be much fun) or told to go away (which might not be wise or kind), persuaded me to persist with these events. But then along came email, to the point where even I had it, and now they pretty much run themselves. I fix a speaker, email everyone on the list on about the Tuesday telling them of exactly who will say approximately what on the Friday, and of any other future meetings that have already been fixed. (Speakers for July and November are now settled, but nothing else is certain as yet, other than that someone will speak.)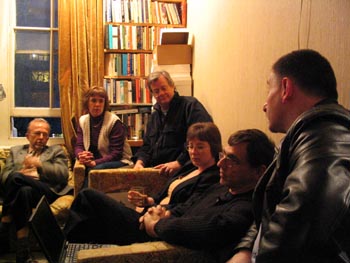 Tonight, Sean Gabb spoke about "Demography and History". He is the second from the right in the picture, with our own David Carr lending an ear in the foreground. The guy in the corner is Bruce, a real photographer, who would have done a far better picture, but with him as with me, you get what you pay for, photographically speaking.
When Sean speaks about current affairs, he is always interesting, but so are most of us. We all have worthwhile opinions about what is happening now. But when it comes to speaking about the whys and wherefores of the fall of the Eastern Roman Empire in the Sixth Century or for that matter about the history of Eastern Europe in the years before the outbreak of the First World War, Sean is, in the London libertarian scene, in a class of his own. Not being burdened with false modesty, Sean was recording his talk, on his laptop computer, and I understand that it will be available on the Internet. He had to leave promptly at 9.30 pm to catch his train down to the South Coast where he now lives, so I can not be sure of the details of this, but I will supply a link to his talk as soon as I can, and maybe some more comment on it. → Continue reading: Of meetings and plagues