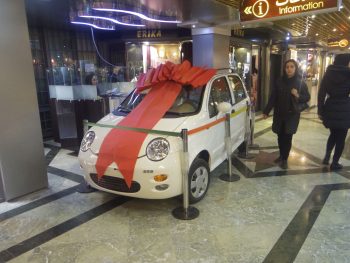 The above picture is the most commonplace thing in the world. There is a gift wrapped car in a shopping mall. Obviously, this is a prize in a competition, designed to encourage people to visit the shopping mall and spend money in the shops. The car is first generation Daewoo Matiz – later known as the Chevrolet Spark – an old design now but one of the cheapest cars in production in the world. It's an utterly awful car to drive, but it is A NEW CAR!. If you are a shopping centre owner, then the main thing is that it is a new car. That it is the cheapest new car in existence is not the point. The point is that the prize in our competition is A NEW CAR! It's a city car, also. If you are in a place where the traffic is bad enough, a lack of acceleration and an inability to drive above 80km/h matters less, anyway.
Well, yes. And no.
There is, of course a story.
I live in London by myself. My family are in Australia. London is cold, dark, and deserted between Christmas and New Year, and it can be depressing to be here by yourself. Although I don't need much of an excuse to go travelling at the best of times, I particularly try to get out of town, ideally to somewhere where there is no Christmas. Last year this led to my finding myself in Tehran, Iran. I didn't quite entirely escape Christmas – there was still a Christmas tree in the lobby of my hotel – but I mostly escaped Christmas. Certainly, the traffic gridlock on December 25 was horrendous, as indeed the traffic gridlock is horrendous in Tehran on most days. There is a metro in Tehran, but Tehran is a sprawling city which makes it only so useful, a little like the metro in Los Angeles. Tehran is a sprawling city of multi-lane freeways and horrendous traffic in a basin surrounded by mountains, a little like Los Angeles. In the expensive suburbs of north Tehran, it's not especially hard to find yourself in achingly hip cafes that might almost be in Silver Lake, too, but let's go there some other time.
The whole "enormous, car-centric sprawl with an immense freeway system" makes Los Angeles a polluted city by American standards, but in all honesty it is much less polluted than it used to be. Modern cars are more efficient and have more advanced emissions control systems than was the case even a few years ago, and like all developed world cities, the air in Los Angeles is much cleaner than it once was.
In Tehran, though, imagine a rapidly growing city, that despite sanctions is getting richer. Demand for cars is high, but due to those sanctions Iran is unable to import cars from many industrial countries. Cars stay on the road longer, which means the pollution will remain worse for longer than in many other cities of similar levels of development. Sanctions are uneven, so it is much easier to do business with carmakers in certain other countries than others. When you look around, you find that most of the cars are Korean, or French, or will be oddly familiar things or brands you haven't heard of.
This gets us back to the overtly Korean car in the shopping mall.