If you are an anti-Corbynite Labourite, things are looking pretty grim just now:
By his disastrous widening of the franchise for electing the party leader, Ed Miliband has handed control of it to what a previous leader, Hugh Gaitskell, memorably denounced as "pacifists, unilateralists and fellow travellers" – people not only antipathetic to ordinary voters but anathema even to most ordinary Labour MPs. It will be hard, it may even be impossible, to get the institution back. …
Quite so, except that the people to whom the Labour Party has just been handed are not pacifists. They favour violence provided that it is inflicted upon Britain and upon civilisation by Britain's and by civilisation's enemies.
This is Robert Harris, in today's Sunday Times, and dragged out from behind its paywall here.
Such chaos cannot go on much longer.. Those MPs who either defy a three-line whip to vote for military action against Isis, or who are permitted to follow their consciences in a free vote, may well prove to be the nucleus of a new party.

If that sounds apocalyptic then so is the mood of many Labour MPs: obliged to watch at close quarters day in, day out, the incompetent antics of a leadership that has no hope of ever winning a general election but which is nonetheless impossible to dislodge.
But if you are a Corbynite Labourite, things are looking pretty good:
Formed as a successor to the Corbyn campaign, Momentum is in the process of setting up governance arrangements to represent its supporters amongst the Labour Party membership as well as the wider social movement which is springing up. As it grows, Momentum will develop democratic governance structures at every level of the network.
That being from the Momentum website. However, I prefer this piece of Momentum propaganda, which I spotted recently in the tube: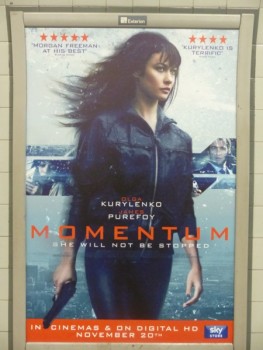 Who knew that political feuding could be so glamorous?
Here is another Labour Party related picture which I took, when walking beside a disconnected and unnavigable canal (a certain creek springs to mind) in north London earlier this year. Did the person who threw this sign into the water know something that the rest of us did not, about the future of the Labour Party?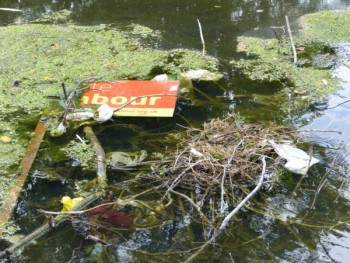 To be more serious, I am content to see the Labour Party reduced to a state of ruin.