Some time towards the end of last year, my niece Roz emailed me to the effect that she was in London, and would I care to meet up with her for some coffee? I was intrigued. Because of our differing political views, Roz and I have had a polite but somewhat distant relationship. She is into feminism and environmentalism. I am into, well …: see all my other postings here. What was going on? Why this meet-up? I knew some unusual game was afoot. But what?
We duly met up, and after some further polite chit-chat, what was afoot was revealed. Roz had written a crime novel, called The Devil's Dice. This book, she said, was in the process of being published, by a real publisher of the sort that you have heard of. I like crime novels, and I like detective dramas on television. And I know how hard writing it can be to write anything even as long as a longish blog posting (such as this one is (you have been warned)), let alone a book. So, I was impressed.
Although she didn't spell this out, it was clear that Roz was then at the stage of communicating with everyone she could think of who might be able to help her sell this book. Which also impressed me. Good for her. And good for her also, and good for me, that she was content to include me in this process. Later, an advance copy of the book arrived at my home, in a bright gold bubble-wrapped package, together with some chocolate dice, in a little bag made of bright red netting.
I read the book, and found it thoroughly absorbing and entertaining. She writes really well.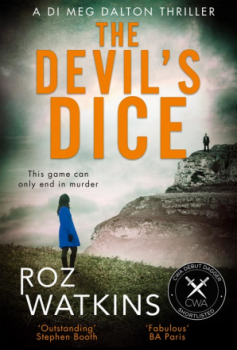 A quote from the book? Try the dedication:
To my parents.

Thank you for your support and encouragement, and advice on how to kill people.
Roz's mum, my older sister, was a National Health Service doctor, and her husband was a psychiatric social worker. Short of having parents who were directly involved in the criminal justice machine, like detectives or coroners or forensic pathologists or suchlike, a crime writer couldn't ask for a better start.
→ Continue reading: Thoughts on crime fiction – provoked by the recent publication of The Devil's Dice by Roz Watkins