Yesterday, as earlier reported, I attended an event about road pricing. It was typical IEA. Men in suits and ties with irreconcilable beliefs took it in turns to be irreconcilably polite about everything, while other men in suits and ties listened with equal politeness: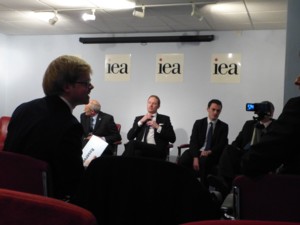 There are some of the men in suits and ties waiting their turn to be polite. And look, one man in a suit and a tie is even straightening his tie, James Bond style, although there the resemblance ends. That's Oliver Knipping, co-author, together with Richard Wellings (the man in a suit and a tie on the right whose face is blocked out by the video camera) of a recent IEA publication entitled Which Road Ahead – Government or Market? Do you see what they did there? Which road, as in policy, metaphorically speaking, for dealing with roads, as in roads, literally.
I am being much too rude. It was actually pretty interesting if you like that sort of thing, which I only somewhat do, hence my rudeness. I went because I knew that although I would be rather bored during the event, I would afterwards be glad that I had attended, and so it has proved. I got a copy of Which Road Ahead for only a fiver, and better yet, I met a man with a blog, called Road Pricing.
I like road pricing, for the same reasons I think that governments shouldn't give away train tickets to everyone just because the train system is government owned and/or government controlled and people have already paid for it that way. What if some people don't like trains and never use them? It's not fair. Without journey pricing, the trains will get even more impossibly crowded. Privacy? That argument was won and lost when they introduced number plates, I reckon. A man called Gabriel Roth was quoted as saying that the road systems of the world are the last bastions of Soviet style central planning. Which isn't true. What about central banking? But I like the sentiment. This is a product for which people queue for the product on top of the product thereby destroying the product. That can't be the right road ahead, now can it?
Scott Wilson, the Road Pricing blogger, agrees. But you won't read many arguments at his blog about why road pricing is good. What you will read is reports about how road pricing is being done in various parts of the world, well or badly, and criticisms of places where it is being done badly, like, surprise surprise, the UK. In that posting there is a picture of people being charged to get across the Thames which makes you think, not road pricing, but: crossing a national frontier, of the sort that is taken seriously.
I ought to have known about this blog two years ago, when it started. But no matter, now I do. This is the kind of thing that you learn if you go to rather boring meetings instead of just staying home glued to a computer, the way I am now. Besides which, a blog is merely a blog. If you actually meet the man who runs it, see his suit and his tie, and hear him talking, quite intelligently, that makes you actually want to pay attention to his blog.