Robinson Meyer tweets:
If most Americans hate architectural abstraction and Mies-inspired modernism, then there's still a compromise solution. It's simple: All federal buildings should be designed in the style of India's National Fisheries Development Board.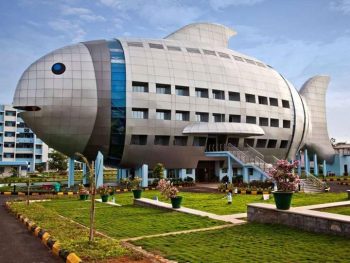 Trump has put architecture centre stage in the culture wars. Which will make it all much more interesting. Especially if more creature buildings are built, like the one in the picture above. And especially if they built something like a huge panda building or huge frog building, in Washington.
Eventually, there should be a giant building in Washington, the tallest in town, shaped like Donald Trump. A giant Trump sculpture. That would drain the swamp. They'd all flee in terror.
To be a bit more serious, but only a bit, just think about Trump's edict, which says that from now on, all Federal Government buildings in the USA must be designed in the "classical" style. No more office blocks looking like multi-story car parks or international space stations. From now on, they'll have to have a Parthenonic frontage stuck onto them.
Were any such buildings actually to get built, everyone who looks at one of these buildings is going to see … Trump. But all the people who work in government buildings hate Trump from the depths of their tax-dollar-sucking bossy-boots souls. So, they'll make a huge stink to ensure that no such buildings ever get built. How beautiful is that? The governmental classes will, for the duration of Trump's reign of architectural terror, expend huge amounts of energy opposing the expansion of the Federal Government.
The more I hear and see of Trump, the more I like him. But I'm talking about America, and what do I know about America? Luckily, we have plenty of commenters who do know about America, because they live there. Gentlemen, start your engines.