Like Michael Jennings, I end my 2015 blogging efforts here at Samizdata with a clutch of pictures. Unlike Michael, I haven't managed to do anything like this for every one of the last ten years. I did do something similar two years ago, but this time last year my retrospective attention was concentrated on the speakers at my monthly meetings, without any pictures of them.
I began my 2015 in France.
On January 7th, many more besides me were thinking about France, because that was the date of the murderous attack on the offices of Charlie Hebdo.
The following Sunday there were many demos against this attack, including one, which I attended, in Trafalgar Square, London: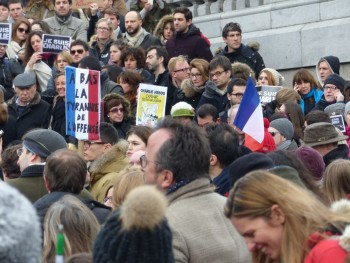 I choose the above photo of this demo because it features my favourite placard at the event, which I displayed here at the time, along with my thoughts about it all. Basically, the alternative, no demos, would have been worse. More placard photos taken that day here.
Aside from the above very public events, most of my year was spent contemplating, and photographing, things and people more personal to me.
Like, for instance, getting to know people like Peter Kaznacheev. That link is to a piece by him about oil (falling price of, etc.), a subject about which he spoke at my place on the last Friday of May. But this next photo shows Kaznacheev speaking about Isaiah Berlin at Pushkin House on Feb 25th: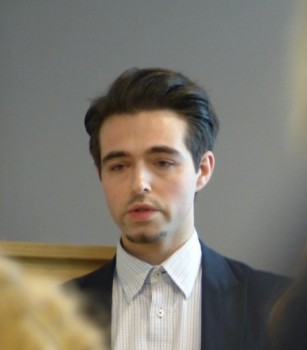 Next up, a photo that concerns the seemingly relentless rebuilding development that still goes on in London, despite all the financial chaos of recent years. (I could easily have done an entire year of crane photos.) This particular photo is of just a little bit of what is going on at the top end of Victoria Street, near Victoria Station, which is a walk away from where I live: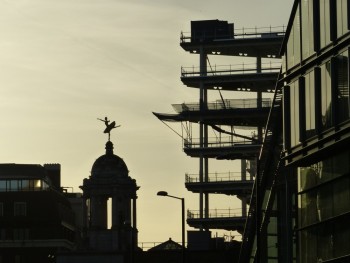 The more construction there is around her, the more I enjoy photoing that statue, on the top of the Victoria Palace Theatre, of ballerina Anna Pavlova – typically with the ever changing scene of construction work (e.g. cranes) behind her or beside her.
Next up, a photo concerning more public matters, namely the British general election of May 2015. I had considered doing a whole year of newspaper headline pictures, but in the end only this headline picture made the cut, in this case a picture taken in April. Nick Clegg explains why we should keep on voting for him and his LibDems, instead of them getting the electoral stuffing that they so richly deserved (because of their duplicitous and delusional habits of telling everyone whatever they want to hear and of agreeing with one another about nothing except their own importance), and subsequently got: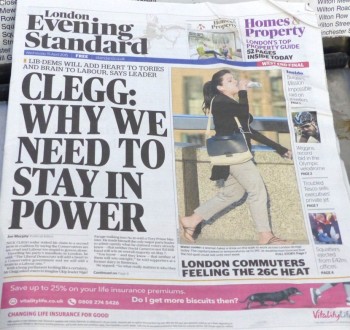 My May picture, rather than being, say, another picture relating to the general election (my immediate thoughts on that were in this posting) goes back to new building in London, new building and not so new building. Usually I illustrate my interest in new London buildings with pictures of London's Big Things. In this next picture we observe contrasting fashions in architecture – and in modern architecture, form follows fashion at least as much as it follows function – in the form of two not so big things, but still quite big. At the front of the picture, a classic exercise in the Concrete Monstrosity style (circa 1975?). Behind it, the more recent Shiny Surfaces at Odd Angles style that now prevails (see also this building) in the form of 240 Blackfriars: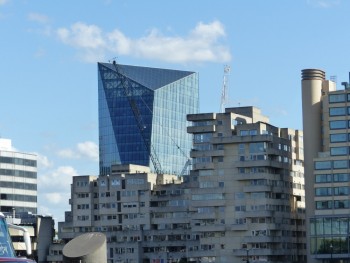 In June, I had the huge pleasure of attending the inaugural lecture given by a good friend from way back, Tim (now Professor (of Business and Political Economy at Middlesex University London) Tim) Evans: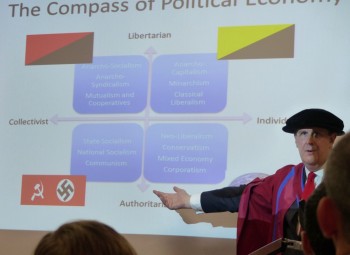 The whole event was a delight, not least because of the truly bizarre costume that Tim was obliged to wear while giving his lecture. More seriously, everyone there seemed to like him and to want him to do well. Best of all, they want him for what he is. They like that he's a libertarian, whatever else they may all be themselves, because good universities are not supposed to be run by people who all think alike.
I have watched Tim Evans try to get a succession of corporate "public affairs" jobs over the last several years, but keep on not quite getting them. My theory is that once he got on the short lists for all these various jobs, they took a closer look at exactly who they were dealing with, and thought: hm, no. Will this man be the voice of Crony Capitalism that we are all too likely to need at various points in the years to come? Maybe not. And, they picked instead someone more dependable, more intellectually pliable, and Tim carried on with "consulting". Now he has a job that seems truly to suit him. Centres of libertarian influence in British academia do exist, but they are rare. There is now another.
Tim Evans will be speaking at my first Last Friday meeting on 2016 on Jan 29th, about the Jeremy Corbyn phenomenon. Tim reckons Corbyn is being badly underestimated. I got a dry run of this talk when I dined at Chateau Evans last night, and very interesting it promises to be.
One of the reasons I (a) hold monthly libertarian meetings in my home, but (b) do not record them in either sound or vision, is that these informal events of mine often lead on to more formal performances by the same people, on the same kind of subject, for Libertarian Home, where a video camera typically does operate. Here we just about observe Dominic Frisby, who spoke at my place in February of last year, addressing Libertarian Home, on the first Thursday of July: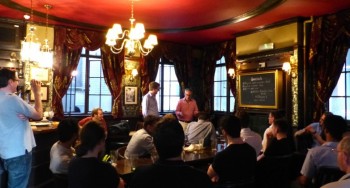 Much to my delight, Libertarian Home seems regularly now to hold its meetings at The Two Chairman in Westminster, a walk away from me. It also delights me that they serve drinks in the upstairs meetings room rather than us all having to go downstairs to buy our drinks. The bad news, as you can see, is that I do not find photoing in this place very easy. But, dodgy though it is, this photo still shows you what an LH meeting looks like. It features two of LH's leading lights. To the left of the bespectacled Frisby is Rob Waller, who does lots of behind-the-scenes work for LH, and to the further left, holding that video camera, is LH's Dear Leader, Simon Gibbs, now one of London's most significant libertarian activists and proselytisers (which he manages to combine with having a wife and toddler-age son).
My August picture features two more good friends, Richard Carey and Ayumi Meegan, whom I have come to know well through Libertarian Home (and also my meetings), getting married in the magnificent setting of St James' Piccadilly. I took many photos (e.g. this one), of which this was one of the better ones: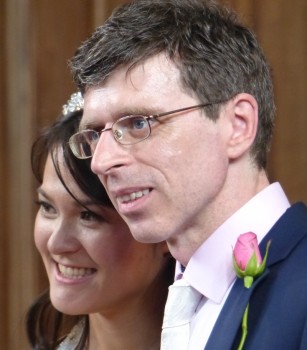 My September photo was taken towards the end of a terrific day (thank you Darren) which I (and Darren) spent at the Oval cricket ground. The game was a very good one, which our team, Surrey, won in an exciting finish. Best of all, we got to see one of the recent greats of the game, the Sri Lankan Kumar Sangakkara, make a delightfully stylish century for Surrey. Here we see Sangakkara (in the cap) rather wearily doing his selfie duties after the game had concluded: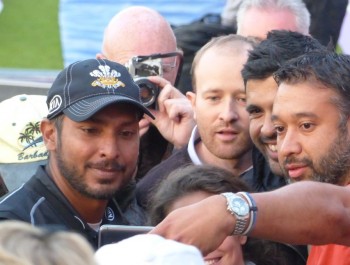 I love that at the back of all this there is another photographer, having just as much fun as me. I also love that we spent the first chunk of the day sitting high up in the Pavilion, which meant that I could both watch Surrey win a great cricket match and take photos of London's Big Things. And the weather was perfect. Sorry Richard and Ayumi, but this was my Best Day of the Year.
Next, another meeting photo, this time of one of my meetings, in October and addressed by the always entertaining and stimulating Aiden Gregg: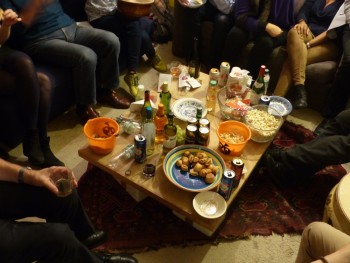 I have found photoing my meetings to be difficult, not least because I frequently forget even to try. But even when I do remember, where do I stand, to get everyone in? Without them looking posed, or unequally sized? With this shot, for once, I think I captured something of what my meetings are all about, without revealing the faces of anyone who would prefer to remain anonymous, and without implying that there were fewer people present even than there actually were.
As you can see, you don't come to my meetings for haute cuisine. But you do get haute thinking.
November is a total change of scene. For now, we are deep into the countryside, way beyond the confines of London: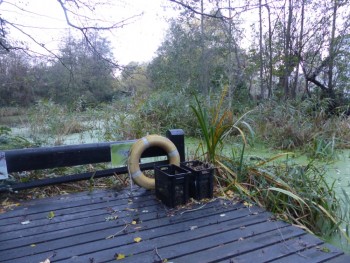 Or are we? Actually, we are not in the countryside at all. Rather are we in Camley Street Natural Park:
Two unique acres of wild green space right in the heart of London, this innovative and internationally acclaimed reserve on the banks of the Regent's Canal is a place for both people and wildlife.

Camley Street Natural Park was created from an old coal yard back in 1984. It sits in the middle of King's Cross, alongside the sparkling new Eurostar station at St Pancras.
Funny how "nature" often seems to come about so unnaturally, isn't it?
I know, I know. The Greenies probably only got this little park to play with when it was starting to be thought that St Pancras ought to be turned into London's Eurostar terminus and to have that big flat shed stuck on the front of it. This being the kind of thing that unbribed Greenies might have made a fuss about. But however and whyever it came about, Camley Street Natural Park is yet another of those little secret pleasures with which London is so abundantly provided.
Finally, a cake: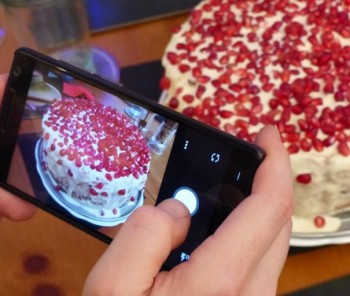 Well, a cake-stroke-pudding, soaked in alcohol, served at Chateau Samizdata on Christmas Eve. A Nigella recipe, apparently. Very tasty.
Too late for me to say Happy Christmas, other than to say that I hope everyone who is still reading this had one. But Happy New Year definitely still applies, despite those skiving hamsters.