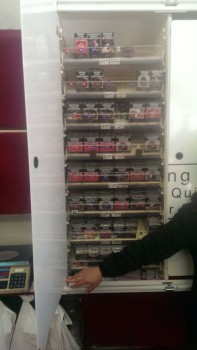 In August, I spent some time in my native land of Australia visiting family and friends. One Sunday morning I found myself wandering around the inner west of Sydney. I used to live in the area. If certain things in my life had gone slightly differently, I might still live in the area.
That's life, though. I don't regret moving to London in 2002. For one thing, if I had not done so, I might not now be writing for this blog.
In any event, I was thirsty. I nipped into a convenience store to buy a Coke. Anyone who has ever lived in a city will know the type of store. A selection groceries for people who have not managed to get to the supermarket. Drinks. Snack foods. Possibly a few pots and pans and other household goods. Cigarettes. In cities full of immigrants such as London and Sydney, these stores are normally owned and run by first generation immigrants. In the UK, this often means south Asians. In Australia, the owners of such shops are more often Chinese people, in some sense. (Often this can mean ethnically Chinese immigrants from Malaysia, Vietnam, or various other places).
People reading carefully may thing I am being careless in leaving alcoholic drinks and newspapers out of the list of things that such stores sell. After all, in London these things would make up a large portion of the business of such a store. Surely this is the same in Australia?
Well, no, actually.  Australian convenience stores do have vast amounts of shelf space devoted to sunscreen and insect repellant, but this hardly makes up for it.
Australia loves to regulate to protect vested interests. Laws vary according to state, but in Sydney an area will have a single newsagent, which will have a monopoly over the sale of newspapers in that area. This newsagent will be free to sub-licence other stores in the area to sell newspapers, but this normally only happens for Sunday papers, as the owner of the local monopoly will (or at least might) take the day off. In theory, the holder of the newsagent monopoly guarantees that he will provide local delivery of newspapers in the morning in return for being granted this monopoly. This may have once made sense, although I doubt it. Now though, most people who read newspapers at home do so over the internet. The monopoly remains, though. It's about vested interests being protected from competition. This means, amongst other things, that convenience stores run by recent immigrants are not going to be allowed to sell newspapers.