I and my libertarian friends all love Uber. By that I don't just mean that we love using Uber, the service, although I am sure that just like many others, we do. I mean that we love talking about Uber, as a libertarian issue, as an issue that nicely illustrates what libertarianism is all about and the sorts of things that libertarians believe in. In particular, we believe in: technological innovation and the freedom to do it, for the benefit of all, except those in the immediate vicinity of it and overtaken by it, because they make a living from the technology that is being overtaken.
Example. A couple of weeks ago I attended a talk about Art, which suggested that Art is not abundant enough and not benefiting enough people. A big part of the response from the floor during the Q&A afterwards was: It depends what you mean by Art. By most reasonable definitions, there has never been more Art. Prominent London libertarian Professor Tim Evans compared the attitude of the speaker to that of a London Black Cab driver fretting about how to keep London Black Cabs going, what with so many Londoners now preferring Uber Cabs. My point is not that this was a fair comparison, although I thought it was. My point is that we libertarians love Uber so much that we insert Uber into conversations about quite other things. Uber is something that we just love to talk about. And it's not just Tim Evans, and me, and Johnathan Pearce, and Rob Fisher and Perry de Havilland who love to write and talk about Uber. Based on the conversations I've been having with fellow libertarians, it's pretty much all of us. This is an issue which unites all of us, and which divides our opponents. After all, even anti-libertarians need a taxi ride from time to time, and they prefer it to be cheap and obtainable rather than expensive and unpurchasable.
At the very moment I first typed in the above paragraph, an email arrived from the IEA, telling me about how the IEA's boss, Mark Littlewood, has been mixing it with Black Cabbies on the radio.
As for me, I found my interest renewed in the Uber battle when I encountered this Black Cab, last August, in Victoria Street, just up the road from the Houses of Parliament: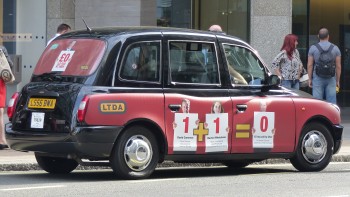 Why was this cab of interest to me? Well, let's take a close look at the rather intriguing politics lesson on the side of this Black Cab: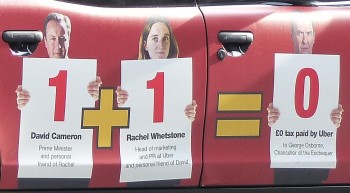 As you can see from this posting at my personal blog, way back in August when I took those photos, I had in mind to put something here way back, provoked by them. But the delay didn't matter. This issue is not going away any time soon.
The taxi driver whose taxi sported this advert clearly thought that this was an advert about how wicked Uber is. Uber lobbies. Uber puts Prime Ministerial friends on its payroll. Bad Uber. But to me, this read more like an advert in favour of David Cameron. Cameron wants Uber to flourish in London. Does he now? I did not know this. Good for Cameron. And bad for Boris Johnson, Mayor of London, who does not.
This is also an advert for Uber itself. Uber is cheaper … because it pays no tax! Come again … Uber is cheaper, you say? Hm, interesting. I must give it a go.
The LTDA, who, as you can see from the top picture, is responsible for the above advert, thinks that Uber is systematically breaking the law. What that tells me is not that Uber is bad, but that the law, insofar as it now impinges upon Uber, is an ass.
→ Continue reading: Why we libertarians love Uber not just as a service but as an issue