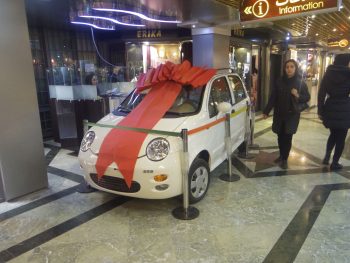 The above picture is the most commonplace thing in the world. There is a gift wrapped car in a shopping mall. Obviously, this is a prize in a competition, designed to encourage people to visit the shopping mall and spend money in the shops. The car is first generation Daewoo Matiz – later known as the Chevrolet Spark – an old design now but one of the cheapest cars in production in the world. It's an utterly awful car to drive, but it is A NEW CAR!. If you are a shopping centre owner, then the main thing is that it is a new car. That it is the cheapest new car in existence is not the point. The point is that the prize in our competition is A NEW CAR! It's a city car, also. If you are in a place where the traffic is bad enough, a lack of acceleration and an inability to drive above 80km/h matters less, anyway.
Well, yes. And no.
There is, of course a story.
I live in London by myself. My family are in Australia. London is cold, dark, and deserted between Christmas and New Year, and it can be depressing to be here by yourself. Although I don't need much of an excuse to go travelling at the best of times, I particularly try to get out of town, ideally to somewhere where there is no Christmas. Last year this led to my finding myself in Tehran, Iran. I didn't quite entirely escape Christmas – there was still a Christmas tree in the lobby of my hotel – but I mostly escaped Christmas. Certainly, the traffic gridlock on December 25 was horrendous, as indeed the traffic gridlock is horrendous in Tehran on most days. There is a metro in Tehran, but Tehran is a sprawling city which makes it only so useful, a little like the metro in Los Angeles. Tehran is a sprawling city of multi-lane freeways and horrendous traffic in a basin surrounded by mountains, a little like Los Angeles. In the expensive suburbs of north Tehran, it's not especially hard to find yourself in achingly hip cafes that might almost be in Silver Lake, too, but let's go there some other time.
The whole "enormous, car-centric sprawl with an immense freeway system" makes Los Angeles a polluted city by American standards, but in all honesty it is much less polluted than it used to be. Modern cars are more efficient and have more advanced emissions control systems than was the case even a few years ago, and like all developed world cities, the air in Los Angeles is much cleaner than it once was.
In Tehran, though, imagine a rapidly growing city, that despite sanctions is getting richer. Demand for cars is high, but due to those sanctions Iran is unable to import cars from many industrial countries. Cars stay on the road longer, which means the pollution will remain worse for longer than in many other cities of similar levels of development. Sanctions are uneven, so it is much easier to do business with carmakers in certain other countries than others. When you look around, you find that most of the cars are Korean, or French, or will be oddly familiar things or brands you haven't heard of.
This gets us back to the overtly Korean car in the shopping mall.

On December 26, I went for a walk around the Grand Bazaar in Tehran. This is very like enormous bazaars in many other Middle Eastern cities, but inevitably with Iranian characteristics. As in any country that has been economically separated from global institutions by sanctions, the level respect for the intellectual property law of foreign countries is not high. (I particularly liked the fact that there is a section of the Grand Bazaar devoted entirely to shops selling fake labels for fake designer clothes. Yes, here you can by an enormous roll of labels saying "Gucci", or "Prada" to attach to the clothes that you have produced in your local store in Tehran's enormous garment district, whether or not those clothes in any way resemble anything that is actually produced by Gucci or Prada).
The bazaar is fun, and I really wish I had purchased a Persian carpet when I was there, but people actually shopping for clothes prefer more modern, indoor, air conditioned surroundings. (I might suggest that this is particularly true of female people – oops, looks like I will never work for Google. But I digress). Therefore, there is a modern shopping mall next to the bazaar, which resembles a modern western shopping mall full of fashion outlets. And in fact, it resembles a western shopping mall in terms of having a competition for customers with a NEW CAR as a prize.
So, the car. It's a Daewoo Matiz. Korean. Fits well into the narrative of sanctions and Korean cars.
Except, things get weirder.
Daewoo was one of three Korean chaebols that were making and exporting cars in the 1980s and early 1990s. Most South Korean economic activity is driven by chaebols: family owned economic groupings that are well connected, connected to one another in ways that are are inscrutable, and often very corrupt.
The automotive division of the South Korean chaebol Daewoo expanded massively around the world. It was probably the second most significant South Korean car-maker after Hyundai. Daewoo opened factories in quite a few other countries – particularly those in which the government was willing to give subsidies (and, er, kickbacks) to foreign entities that were willing to open factories in their countries, and/or places where local governments and/or carmakers were fairly desperate to get investment and/or expertise from anywhere. Daewoo ended up building factories in places like Poland, Ukraine, Vietnam, and Iran. The Matiz went into production in all of these places at that time. It was quite cute to look at (due to the fact that the general design was by Italian designer Giorgetto Giugiaro, as a possible candidate to be a new Fiat 500, but which was rejected by Fiat) but wasn't much fun to drive, at least partly due to having an awful and massively underpowered engine. Daewoo set up a global dealership and distribution network through which to sell its cars, and managed to sell a fair few, largely because they were cheap. They fairly quickly got a reputation for not being very good, but they were cheap. (Daewoo's Korean competitor Hyundai started with a similar approach, but then gradually improved quality and established itself as a fairly solid mid-market brand).
In any event, the Asian economic crisis occurred in 1997. This led to a transition from dictatorship to democracy, some of the least economically viable economic structures collapsing, and some of the most extreme corruption being punished. The family of Kim Woo-jun, founder of Daewoo, turned out to be corrupt and autocratic even by the glorious standards of the country, and the conglomerate collapsed and several members of the relevant Kim family went to prison. Many of the international subsidiaries of the automotive company turned out to be completely unviable and/or reliant on corrupt practices to survive, but it turned out to be possible to convince General Motors (through its Australian subsidiary Holden, and with probably some greasing of palms or at least tax breaks) to acquire the brand, the models, the Korean factories and a few of the more viable of the other operations around the world).
Having acquired Daewoo, GM discovered that although Daewoo had been selling cars in many places around the world, it did not have a good reputation, and the cars were hard to sell at a profit. It experimented in Israel by selling Korean manufactured Daewoo cars under the "Chevrolet" brand, a brand which had not often been sold outside North America. The cars were not well known, but there was surprisingly large brand awareness though movies, Bruce Springsteen songs, and other aspects of American culture that had filtered around the world. Daewoo discovered that cars sold as "Chevrolet" sold far better than did cars sold as "Daewoo" in Israel, and GM therefore rebranded Daewoo's cars and distribution networks as Chevrolet almost everywhere, and used a combination of Daewoo's and their own distribution network to establish Chevrolet as a global brand in parallel with its various regional brands such as Opel, Vauxhall and Holden. The Daewoo Matiz was rebadged as the Chevrolet Spark, and most of the other models in Daewoo's product lineup were also renamed and rebadged.
GM also started behaving like an American company rather than a Korean one. It got into an intellectual property dispute with Chinese manufacturer Chery over the design of a car called the Chery QQ, which it claimed was too close in design to the Matiz/Spark, and GM sued for damages. Intellectual property law at the time was held in little respect in China and not much more in South Korea, so at the time I found this curious.
In any event, establishing Chevrolet as a global brand gave GM opportunities for global sponsorship and advertising that it had not had before (and with respect to which it had been at a disadvantage to more global car brands such as Ford and Toyota), which is why we have seen such things as Chevrolet badges on the shirts of Manchester United players. Eventually, though, people figured out that Korean Daewoo made Chevrolet cars weren't very good quality either, another global financial crisis occurred in which GM got into financial trouble, the experiment in creating a global Chevrolet brand collapsed into a sea of red ink, and that was more or less that. But I digress. However, if Donald Trump is still reading at this point, I have just answered his question.
There was one place, however, where GM was unable to rebadge Daewoo cars as Chevrolet. That was Iran. Korean companies were and are able to operate in Iran (as, seemingly are French companies – French brands are to be seen everywhere in Tehran), but American companies are not, GM had to divest itself of Daewoo's Iranian subsidiary, and to stop selling the knock-down kits of the Daewoo Matiz that were being used for assembly of cars in Iran. Kerman Khodro, Daewoo's now divested Iranian partner was then faced with a dilemma. It had existing assembly lines on which to produce the Daewoo Matiz, but it lacked to expertise to build the parts from which to assemble the cars from scratch, and was no longer able to purchase the parts from Korea.
So, what happened. Well, a year or two later, Kerman Khodro started producing a car called the MVM 110, which looked an awful lot like the Daewoo Matiz / Chevrolet Spark. As it happened, this car was a licensed copy of the Chinese Chery QQ, and Kerman Khodro was now buying knock-down kits from Chery of China, and was assembling them on the same production line they had been previously using to assemble the Daewoo Matiz. This was easy, because as it happens, the Chery QQ is a part for part copy of the Matiz. A door from one will fit onto the other. A headlight from one will fit on the other. An obscure cog from the engine of one will fit into the other.
Staring at the MVM 110 that was wrapped up as a prize in the Iranian shopping mall, this was all suddenly clear to me. *This* was why GM had been so willing to sue. It wasn't just that Chery had produced a car that looked like a Matiz. They had started producing the Matiz, without permission. As to whether it was a simple case of reverse engineering or something more sinister than that, I don't know, but it saved the bacon of the Iranian carmakers.