A display of 'airmanship', the sort, but not the pattern, that was needed in Operation Taxable on D-Day, appears to have fallen on 'stony ground' as it were, it looks like a pilot will be having a hard time.
US Navy officials have said it was "absolutely unacceptable" that one of their pilots used a jet's contrail to draw a penis in the sky.
What else could, or should, he have used? Wider reaction is mixed:
Ramone Duran told the Seattle Times newspaper: "After it made the circles at the bottom, I knew what it was and started laughing."
But one householder told KREM 2 she was upset about having to explain to her children…
However, the good news is that the Brylcreem Boys beat the Yanks to it:
In August this year, an RAF fighter pilot drew a 35-mile penis on radars monitoring skies over Lincolnshire, England.
Just wondering if they did that in the Cold War, and what the Soviet spy trawlers reported back.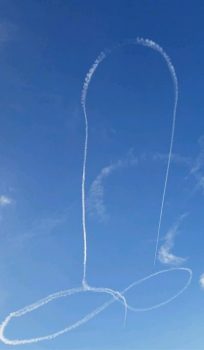 Photo credits: 'jon', and, of course, the Secretary of the United States Navy.