Earlier this week I got back from a week in Brittany. During the first few days of my stay, I and the friends I was staying with visited the island of Belle Ile. Their daughter is my god-daughter, and she was singing (very well) in a classical singing festival that happens in Belle Ile every year.
While in Belle Ile we also enjoyed other sorts of music making. In particular, at midday, in the fish market of Belle Ile's biggest town, La Palais, we listened to a small beat combo called, as I later learned from the small print in some of my photographs, Les Gadgos. Les Gadgos are a bunch of blokes, but they have engaged a lead singer for their latest clutch of songs and their latest CD, a blond chanteuse named Mélody Linhart, who looked weirdly matter-of-fact in her days clothes. But she sang very well, in English. She did various venerable American standards, like St James Infirmary, and slightly more recent American movie tunes, including I Want To Be Like You. She made the latter piece of froth sound almost as profound and existential as St James Infirmary.
But take a look at this other Les Gadjos person, who I now know to be called Clément Lenoble: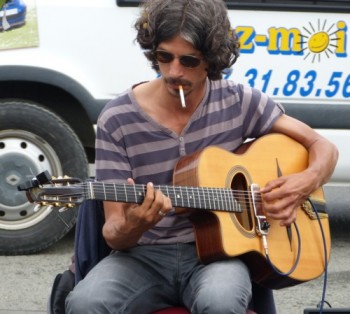 A classic French type, I think you will agree. But that cigarette was actually quite a surprise, because Clément Lenoble was one of the very few people whom I observed during my week in France who was smoking. There were a few. He wasn't the only one. But the basic news is, those Frenchies are no longer fumer-ing. Not the sort who live in or summer in Brittany, anyway.
Instead, this business is on the up and up: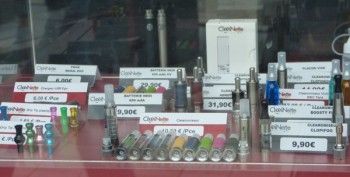 That was just a clutch of e-cigarettes in the window of a shop that also sold other stuff. But later, I came across an entire shop devoted to this one product: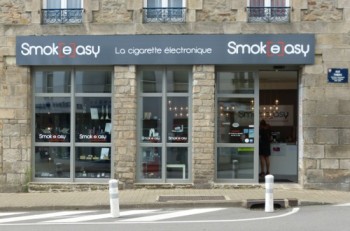 French smokers are a dying breed. No doubt, anti-smoking fanatics would reply that they're a dying breed because smoking is killing them all off, and I do agree that this change of habit is probably a good thing. But even so, I miss guys like this, singing their gravel-voiced chansons in bars, with their whiskey glasses on the piano and their gauloises hanging down from their creased and lived-in faces. Or maybe I just miss the idea of such people, being around, in France.
Smoking is now illegal in most public places in France. I just wish les pouvoirs-that-be had been content to let the habit die away of its own accord. But that is not how such people think.
I also photoed many other more fun things.