I have long admired the libertarian historian and activist Stephen Davies, my previous posting here about him being this one, in connection with a talk he recently gave to Libertarian Home, in the superbly opulent setting of the Counting House's Griffin Room, in the City of London.
Here is a photo of Davies that I took that night: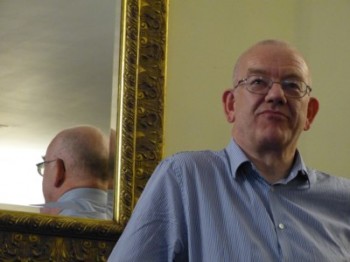 Here is another, together with a photo of someone else also photoing him.
The Davies talk was predictably excellent, and this on a day when he had also given another talk elsewhere in southern England somewhere, to a bunch of sixth formers. I know this because I happened to share a tube journey with Davies afterwards, during which we talked about, among other things, his day, and why he was so very tired. I don't recall where this other talk was, but do recall that it was definitely out of London and that Davies also organised for three other speakers to be present, as well as himself speaking. All this being part of the networking and speechifying enterprise that Davies masterminds from the IEA, along with his IEA colleague Christiana Hambro.  LLFF2013 was but a London manifestation of a nationwide libertarian outreach programme.
The way Davies seems to operate is that he has a number of set-piece performances on particular themes, each of which he delivers pretty much off the cuff, with almost intimidating fluency but which he will typically have done several times before you get to hear it. So, when a particular audience assembles, they get to choose from a menu. There's that history of libertarianism talk, which Davies did for Libertarian Home, having previously done it for the Essex University Libertarians and presumably for plenty of others besides. There is a healthcare talk, which I heard Davies do at LLFF2013, which he also did for those sixth-formers earlier in the day of the Libertarian Home performance. And there are several more of course, which I also asked him about, during that tube journey. I know. He was by then just about dead on his feet, but just sitting there and not asking such things would have felt even ruder than picking his exhausted brain.
A particular favourite of Davies himself, and of me now that I have heard about it, concerns history dates.
→ Continue reading: Steve Davies supplies some different and better history dates