My last Friday of the month meetings are now under way again, and they are accomplishing everything I here hoped they would. Worthwhile thoughts are being thought. I am making new friends. I am also reconnecting with friends from way back, which is a bonus I should have seen coming but did not. The most recent meeting was especially fine. About it I will surely be saying more, by and by.
Meanwhile, however, I continue making my small living room into the best place that it can be for these evenings. What I need next is one of these: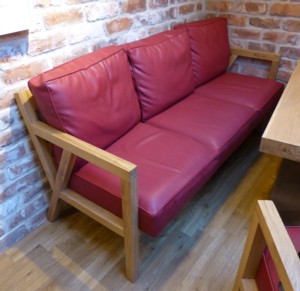 I came across that in a Pret a Manger (it seems they allow you to forget about accents) near Waterloo Station. The Wi-Fi there proved unsatisfactory for my purposes, but the above item of seating is exactly the sort of thing I now want.
It seats three in comfort, as do many sofas on sale these days. But it also has two other features which seem to be harder to come by.
First, unlike most the sofas I am now looking at, this one is not too deep from front to back. This comes partly from this sofa not also being a sofa-bed. I already have a sofa-bed. The last thing I need is another sofa-bed. A sofa(-bed) that sticks out too far into my small living room is no good to me. But many sofas that are not sofa-beds also stick out into the room far too much for my purposes. A sofa like the one above is what I need.
Second, the above sofa does not have wide and rather squishy arm rests. Instead it has narrow wooden ones. So just as it economises on depth space, it also makes the most of sideways space, space that I need every inch of for more seating.
Such wooden arm rests, in between meetings, can be easily used to rest a big plank on, which is helpful for when I am battling with paperwork, which I am, now and always. Also, during meetings, the wooden arms would be good for resting drinks on, in the way that big squishy arm rests are not.
Nevertheless, I would definitely consider something which is the same shape as the sofa in the picture, but without any arm rests at all. The important thing about this sofa is how well it uses space, compared the usual lumbering monster sofas that are to be seen in every furniture shop or furniture website in such abundance. Pret a Manger presumably have a problem not unlike mine, that made them want what I want. I want one sofa that helps me get as many people into my small living room as I can. They want as many sofas as possible, to get as many people as they can get into a larger space.
The sofa I seek doesn't have to be any particular colour, or in as good condition as the one above. Rather battered would probably be rather good, because cheaper. It just needs to be that particular sort of shape, or as near to it as I can find.
So, can any of my London friends, or for that matter anyone reading this and living in London, or, really, just anyone, help? All relevant information would be gratefully received. (Comment, or email me by going here and clicking where it says Contact, top left. (That needs to be a slightly complicated process, to deter spammers.))
In order to rescue this posting from being an unadulterated personal advert, let me adulterate it with a broader observation about modern life. Notice how much harder it would have been for me to get across what kind of sofa I am seeking, had I not been able, at zero additional cost to me, to include a photo in this posting of what I am looking for.
→ Continue reading: On the sort of sofa I am looking for – and on the impact of digital photography on trade