It must be ages since we've had a posting here featuring a picture of cute young women having a good time. I miss those times. So here is a picture of some cute young women having a good time: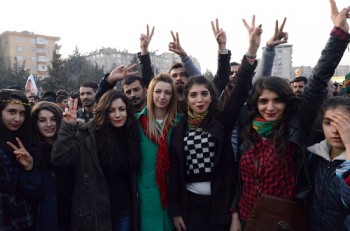 They are Kurdish young women celebrating the liberation of Kobani from ISIS. Thank you Mick Hartley for spotting it, in amongst all these shots, most of which are much more depressing.
Says Hartley:
If the Kurds get a state out of the current chaos in Syria/Iraq, at least there'll be something positive to come out of the whole catastrophe.
Indeed. If you ever had any doubts about which side you are on out there, that photo should lay your doubts to rest. I'm not saying it will, mind you. I'm just saying that it should.
The media reports are all full of caveats about how this is not even the beginning of the end, blah blah, and maybe it isn't. But I agree with all those who say that ISIS is all about momentum, and that if ISIS is now losing momentum, that's very good.