Last Saturday a mate of mine dropped by to see me, having just been at the Covid demo
mentioned here earlier. My mate brought photos with him. You can see most of those he gave me here and here.
But look at these, and you'll get the picture: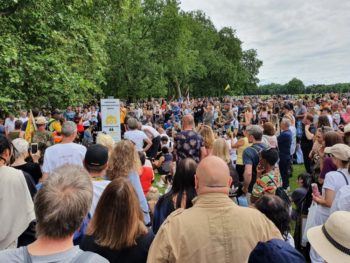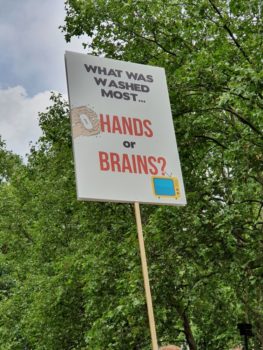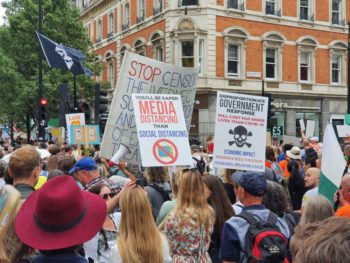 I have very mixed feelings about demos. When they work is when people generally are surprised by the demo, either because they didn't know about the issue in question until now, or because they had no idea people felt so strongly about it, or because they didn't think enough people had the guts to complain about it in public. None of this applied to this demo. There's been a Lockdown, which many consider to have been pointless, a cure worse than the disease, and even if it did once serve a purpose it should end now. And, here are some of those grumblers, gathering in a crowd in London, with signs. I can see why some genuinely don't think this is big news. Although, despite gloomy prophecies of a news black-out, it was small news.
Another problem is that demos are awfully liable to put out mixed messages. It only needs a few off-message demonstrators to get in on the act, and the whole thing can be sabotaged. In this case, I recall some of the news coverage I caught saying that this was a demonstration against vaccines. Vaccines have been mostly very popular, are much touted now as one of the government's few definite successes, and are in many anti-Lockdowner opinions a big reason why Lockdown should now stop, rather than part of it. There are no anti-vaccine signs to be seen in any of my mate's photos, but a news team only needs one such to be bending the whole reporting of the event completely out of shape.
Where demos, even of the most un-newsworthy sort, do have an impact is that those who attend them get to know each other and exchange ideas. I remember watching some Remain demos, long after Brexit had won the referendum, and even I think, after the voters had voted "Get Brexit Done" at the last general election, and thinking that this couldn't change the decision, and I was right. These Remainers, only then, I now realise, were realising what they were about to lose. Until they finally lost, they thought they'd win. But these too-much-too-late demonstrators would, as I realised at the time, at least be influencing each other, forming networks and spreading ideas, and this might have consequences down the line. Perhaps one consequence will be a slight strengthening of any campaign in the future for Britain to rejoin the EU. I can't see such a campaign succeeding, but if it gets its fangs into any major political party, it will surely damage that party, in the eyes of all those who voted Leave, and many more besides. "Move on." "Get over it." You can just hear the young besuited types trying to stop such talk, because they will surely know how it will damage the new arrangements that they are now busily contriving.
In the case of this London demo last Saturday, there is surely at least the possibility that libertarian ideas may spread amongst the demonstrators, from all those who already think this way, to all those who didn't, but may now be starting to. I, of course, want to believe this. I also wonder what other consequence this demo, and all the others like it up and down the country, may have.