This posting may not see the light of day until tomorrow, or worse, because this evening I have a date at Chateau Samizdata to see in the New Year. But, I will now try to get it posted before the end of the year that it is retrospectively about. And yes, it's one of those month-by-month photo-postings, one photo for each month.
Unlike, say, Michael Jennings, I not only live in London but spend almost all of my time in London, and I spend a lot of that time wandering about in London, taking photos of London's architecture, of its adverts, of its other photographers, and of its many other oddities, such as this one: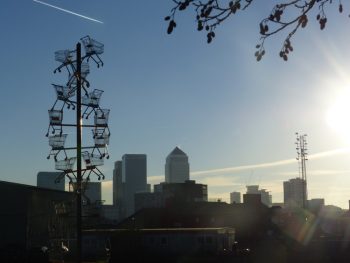 I love to discover out of the way spots in London, spots that others don't know about, but which, if they did, they might enjoy greatly, almost as much as I do. That strange and rather funny sculpture (be patient with this link (to my personal blog) – I do believe it worth the wait), which I photoed in January of 2017, is to be found beside the River Lea, just before it does a kink on its way south. It's a hard place to describe, because if you look on Google Maps there is little of note in the area. The best I can do is to say that to get to this place, I went to Bromley-by-Bow tube station, went east across the River Lea and then went south, past big warehouses, of the sort that have become so important in this age of computerised shopping. There's a big Amazon shed there, for instance.
The above sculpture concerns itself with the more regular sort of shopping, and what with it being the work of an artist, she thinks that it criticises such shopping. Materialism, the badness of capitalism, consumerism, blah blah. But to me it looks more like a celebration of shopping. Whatever it "is", I like it.
Next up, a photo which notes the fact that exactly a hundred years ago from this year, there was that Revolution, in Russia. I didn't visit the exhibition that this poster advertises, because I feared that too many of the exhibits would be celebrations of that disastrously destructive event, and would hence annoy me. But I did photo the advert: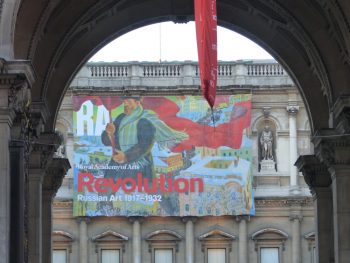 Thank goodness for the movie The Death of Stalin, which came out later this year, and which I did see. That is very comical, but it is anything but a celebration of Soviet communism. The horrors are not wallowed in photographically, but they are portrayed, in the form of the terror felt by all those who had anything to do with Stalin, and in the form of all the absurd events that Stalin's most casual instructions were liable to set in motion. Although I promise nothing, I hope to be writing more here about that movie.
March, and more politics, this time in the form of a big anti-Brexit demo that I chanced upon, in Parliament Square: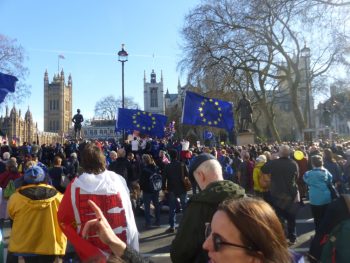 It's tempting to mock this demo as a complete farce. It happened, after all, several months after the Brexit referendum had yielded its result. But although a demo like this attracts little public notice, given that the vote it denounced was, you know, a vote, such demos do still accomplish quite a lot. There is more to politics than mere voters merely voting. Demos, much like indoor meetings (of the sort I continue to hold every month in my own home), strengthen the personal relationships which add up to a political movement, and draw more adherents to the cause, whatever it is. Thanks to this effort, and many other less photogenic efforts, the anti-Brexiteers have been able to put all sorts of political barriers in the way of Brexit, to spread all sorts of doubts in the minds of waverers. I still don't think they will accomplish their central goal, but they are putting up quite a fight.