I remain unapologetically fascinated by the Brexit phenomenon. The campaign, the result, and the aftermath of the result, are all things that I have been finding hugely diverting. It is already the greatest domestic political upheaval in my country during my lifetime, and not in a bad way. And that is not even to mention its possible impacts on Abroad.
But for the time being, what with the weekend approaching, here is a very Samizdata-ish photo which I would like to show you: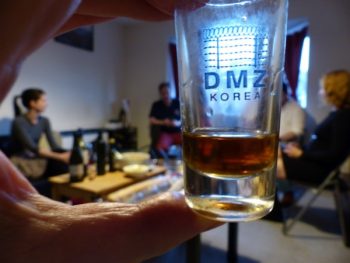 I took this photo last Sunday, at the home of our very own Michael Jennings, just after he had got back home from his latest jaunt. The receptacle it features is one of a set in which Michael served his guests a most agreeable round of drinks, the name and exact nature of which I forget, but which I do remember greatly enjoying. (I have a vague recollection of tea being involved, in some way. But that could be quite wrong.) I was sober enough to take this photo, and to get the glass in approximate focus, but not sober enough to get all of the glass in my picture.
Was this the expedition during which Michael acquired these glasses, or was it a later one? He probably said, but again, I don't recall.
Demilitarized Zone. You can't help thinking that this particular demilitarized zone is a hell of a lot more militarized than the word "demilitarised" ought to mean.
But what I really want to say is: cool, even though no ice was involved. I mean, being served a drink in a glass decorated with a barbed wire fence, topped off with more barbed wire in a roll. Cool? That's downright frigid.
For some reason, this reminded me of a visit I once made to the home in Cornwall of my late uncle, the one who got parachuted into Yugoslavia during the war and who was as a result awarded an MC that he never talked about. On his mantelpiece, he had a miniature trophy on which were inscribed the words: "School of Psychological Warfare, Bangkok, with grateful thanks", or words to that effect.
Alas, this was back in the 1970s and I did not then possess a digital camera. Nor was there then any means of showing people photos that was easy for them to ignore if they were not interested.