I am always on the lookout for elevated platforms, natural or artificial, to look out over London from, and to take photos from. And as luck would have it, one of my favourite such platforms is one that I live directly under. Yes, if I go up to the roof of my block of flats, I can see, and I can photo, things like this: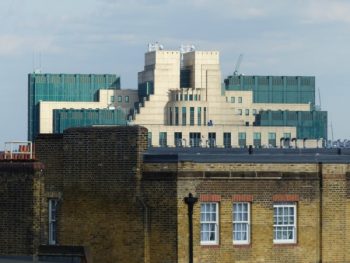 That thing being the MI6 Building, made famous by the Bond movies. In the Bond movie that they were showing on Brit TV earlier this very evening, this building suffered an explosion. Dame Judi Dench looked on, aghast.
Another entertaining thing to be seen from this spot is the new US Embassy, now nearing completion just up river, as luck would have it, from the MI6 Building. Those peculiar structures sticking out to the side, on both sides as we look in the photo below, intrigue me. Officially they are sunshades. So, nothing to do with stopping people from eavesdropping? Absolutely not. Never crossed their minds. Mind you, there won't be any such structure on the windows facing us, so maybe this is true. But, I prefer to believe otherwise: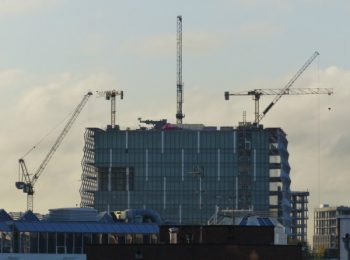 All around this new US Embassy there is a huge building boom in progress. That Special Relationship that people keep saying is about to end remains pretty special, I would say.
Whereas the cranes working away around the above building are there to build it, the crane in this next picture is there to dismantle the big block of a building that we see. This is "New" Scotland Yard. The Metropolitan Police have already moved out, to an even Newer Scotland Yard, nearer to the river.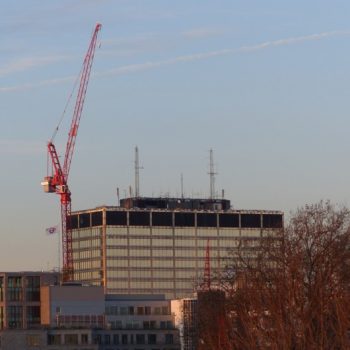 Next up, the two familiar towers attached to the Houses of Parliament, Big Ben and …, you know, … the other one. On the far side of the river but directly in line, The Wheel.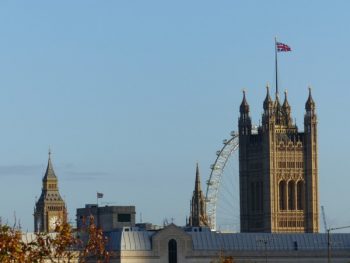 Finally, here are two snaps of how the same bit of the skyline was looking last night, just after midnight. I had guests with me last night, and after we had counted in the new year while watching these fireworks on the telly, I suddenly realised that we could see these same fireworks for real, if we just ran up a few staircases, and provided the fireworks kept on going for a bit. Which we did and they did: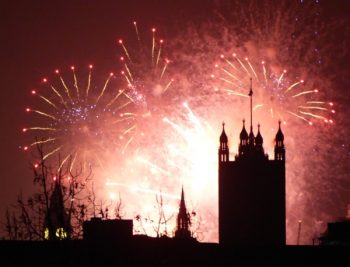 Such is the quality of the cameras on mobile phones these days that several of my guests were also able to take photos.
In the above picture, The Wheel is totally blotted out, but in this final picture, you can clearly see it: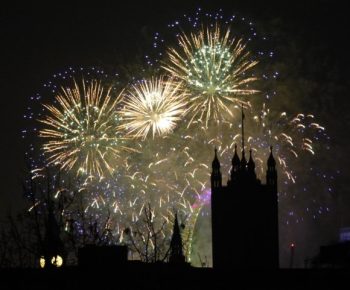 All of this was in aid of everyone wishing everyone else a Happy New Year, and I wish that to all my fellow Samizdatistas, and to everyone else who reads this.