Great confidence is being expressed about how robot cars are about to change the world. Robot cars, says a typical headline that Google (one of the prime movers in this new technology) has just today alerted me to, may be coming sooner than you think. But doubts are also being expressed:
A good technology demonstration so wows you with what the product can do that you might forget to ask about what it can't.

Case in point: Google's self-driving car. There is a surprisingly long list of the things the car can't do, like avoid potholes or operate in heavy rain or snow.

Yet a consensus has emerged among many technologists, policymakers, and journalists that Google has essentially solved – or is on the verge of solving – all of the major issues involved with robotic driving.
"Essentially". That's a word that often means "not". And "on the verge of" often signals a problem that turns out to be hideously intractable, as year after year passes with nobody any nearer to a definitive answer. I seem to recall an entire British high speed train project being abandoned because they just could not make the tilting of the carriages work perfectly. It worked okay, but okay wasn't good enough. It had to be perfect, and perfection proved elusive. Here is what wikipedia says about that, for whatever wikipedia may be worth when reporting a story that remains controversial.
Even that constantly repeated refrain about how robot cars are coming "sooner than you think" is, if you think some more, an acknowledgement from robot car boosters that there are actually widespread doubts out there in the regular, non-techy world about how well these devices really will work, and how completely, above all how quickly, all the problems that they will face have really been and will really be solved. Yes, the techies will eventually get their robot cars working, probably. But for a few more years yet, there will surely be a nasty little clutch both of known unknowns and of unknown unknowns to deal with, all of which will have to be thoroughly dealt with. Crucially, such problems will all have to be solved. If robot cars get the go-ahead and work flawlessly for two months, followed by a lurid catastrophe like something out of a disaster movie, when a bunch of robot cars all follow each other into a swamp or over a cliff, or just run amuck and kill dozens or even hundreds in one catastrophe like in a plane crash, then their introduction will be judged a failure rather than given nine out of ten for technical accomplishment and an A plus for effort.
This strikes me as a lot more immediately promising: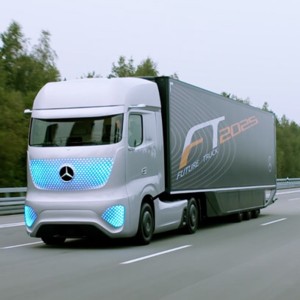 → Continue reading: Robot lorries now seem to me more immediately promising than robot cars