While delighting here in the new camera I bought early this year, I included a picture of a new building, then being constructed in Victoria Street, London SW1, near where I live. 62 Buckingham Gate is now nearly finished.
In February, as already show in that earlier posting, this was how it was looking: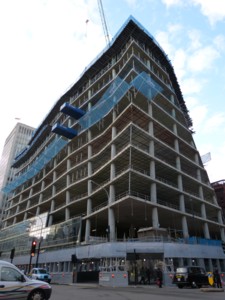 There was a time when a building which looked like that when it was being built would end up looking pretty much like that when finished. This was the time of such architectural enthusiasms as "New Brutalism", a time better know to civilians as the age of Concrete Monstrosities.
And that building above would have carried on as the misshapen oddity that it was when being constructed, looking like it had been put together by a bunch of builders who got drunk every breakfast time, while supervised by an architect who was suffering from a nervous breakdown.
But now look at it: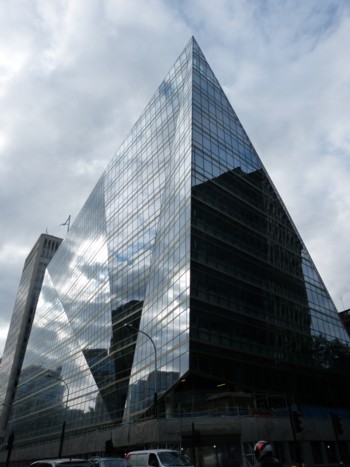 Yes it's another contribution to the Buildings That Won't Show Up On Radar style, already noted in an earlier posting I did here about One New Change. Here is another example of the style.
Partly, as I already mused in that One New Change posting, architects now do this kind of thing because they can. Whatever new thing they can do at any particular juncture in architectural history tends to get exaggerated and turned into a style. And they can do this kind of geometrical weirdness because now they have computers to enable them to keep track of it all, as they did not during the Concrete Monstrosity era.
They also have better technology, including such things as greatly improved glass of many different kinds, from which they can pick the exact one that is most suitable for their particular building.
But there is also a deeper change in play here, a change of aesthetic philosophy. → Continue reading: 62 Buckingham Gate nears completion