One of the more significant libertarians on Planet Earth just now is Patrik Schumacher, whom I have mentioned here before, several times.
Until recently Schumacher was the Number Two at Zaha Hadid Architects. But following the death of Zaha Hadid, he is now the Zaha Hadid Architects Number One. So, an important question for libertarians is: Can Zaha Hadid Architects keep going successfully, without Zaha Hadid herself, under Schumacher's leadership? Given the dominant political attitudes within the architecture-and-design world these days, there are surely a lot of people now hoping that the answer will turn out to be: No.
A report, complete with dramatic pretend-photos, that you can read and see here, courtesy of the Daily Mail, of a new concert hall that Zaha Hadid Architects will be building In Yekaterinburg, give cause for optimism.
With concert halls, everything depends on the acoustics. It can look like the Palace of Versailles, but if it sounds wrong it's a turkey. But acoustic science is now such that I am optimistic that this will be judged a successful concert hall, sounding good as well as looking stylish in a Zaha Hadid sort of way: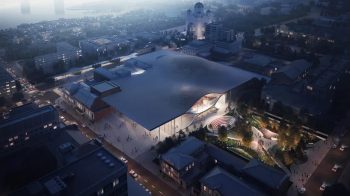 The point of this posting is that if Zaha Hadid Architects continues to thrive as it seems to be thriving now, that will be a win for libertarianism, because it will be such a very big personal win for Patrik Schumacher. Comment away all you like, of course – can't stop you, wouldn't want to. But whether you personally like the look of this new concert hall is beside my main point here.
As the late Chris Tame used to say: we need our people everywhere, and architecture-and-design is an important somewhere. Schumacher reminds me of the late Peter Bauer. Bauer was in a minority of about one in the world of foreign aid, back when he was alive and arguing. Schumacher is likewise something of a lone voice in his world in an equally significant way.