If you type "window tax" into google, and click on "images", you get images like this one: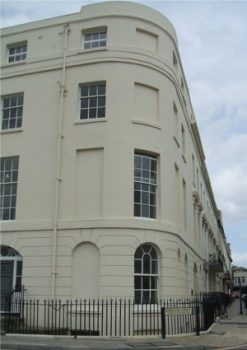 That being the first image that wikipedia shows you, in their entry on the Window tax.
Says wikipedia about this tax:
The window tax was a property tax based on the number of windows in a house. It was a significant social, cultural, and architectural force in England, France, Ireland and Scotland during the 18th and 19th centuries. To avoid the tax some houses from the period can be seen to have bricked-up window-spaces (ready to be glazed or reglazed at a later date). In England and Wales it was introduced in 1696 and was repealed in 1851,
London, and presumably all the other cities of Britain, still contain many such bricked-up windows, that date from this time.
But yesterday, I saw a new block of flats, still in the process of being constructed, just a few dozen yards from my own front door.
The front of which looks like this:
Let me be clear. There is a vertical row of bricked-up windows there, in between the real windows. And you can clearly see that this is a brand new building, not even yet occupied.
Here is a close-up shot of an individual bricked-up window: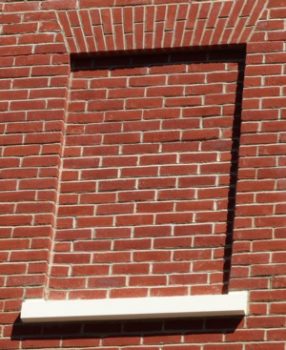 I have long known the bare outlines of this window tax story, as I guess most of my fellow Brits do also, especially if they live in towns or cities. Windows were taxed, so people filled the windows in, to avoid paying the tax.
So, my first – outraged and spasmodic – reaction to this new building, when I saw these non-windows was: My God, have they brought back the window tax?
But, on further reflection, I further guess that this is isn't the first time that recent property developers have created bricked-up windows, or what look like bricked-up windows, to create, pretty cheaply, the suggestion of antiquity in an otherwise blandly modern building.
When I see other bricked-up windows, I will no longer assume that they date from the time of the window tax. Maybe they merely allude to this time.
But, am I missing something? Is there a more practical purpose to such non-windows? Is it helpful to create windows that can later be un-bricked-up (bricked-down?), at some future date? Does it help to think about maybe wanting a window that you don't want now, beforehand, just in case?
Is this a mere part of the construction process. Will these bricked-up windows all turn into real windows very soon, before anyone even moves in?
Or are there quite different reasons for making a new bricked-up window, which I am unaware of? Perhaps so. In fact, probably so. And if so, I hope that commenters will perhaps enlighten me.