Ever since digital photography became something I could afford, I have been wandering around London, digitally photographing it. I show a few of these photos here from time to time, and more frequently at my personal blog.
I have learned, as many photographers do, that the ephemeral is more likely to be significant than the fixed. Yet another picture of Big Ben to add to the billions of such pictures already taken is of zero interest. But something like this, on the other hand, becomes, I think, more interesting as time goes by: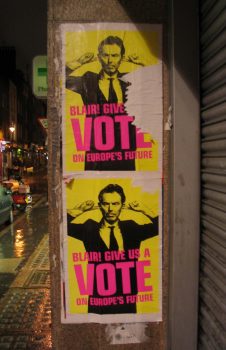 That photo was taken in December 2003. Tony Blair, the man in the posters, was Prime Minister and still riding quite high, and Britain seemed doomed to EU-ness for ever.
The words on these posters help to confirm, for me, what a very wise decision we Brits made, narrowly yet decisively, to get out of this fatuous and delusional enterprise.
I say delusional, because the defining quality of the EU, for me, was the way that it encouraged all manner of people to say and to think things that were nonsensical.
BLAIR! GIVE US A VOTE ON EUROPE'S FUTURE
BLAIR! GIVE US A VOTE ON EUROPE'S FUTURE
Where to start? The "us" doing the voting would be British voters, and yet these British voters would be deciding – deciding "on" – the future of the whole of EUrope. Which these voters plainly could not determine. All that this British decision "on" EUrope could ever amount to would be either a mere protest vote (or more likely: a vote in the EU's favour) in our Parliament, or else an official and very expensive public opinion poll.
Yet such was the pervasive unreality of all thoughts concerning the EU, and Britain's membership of it, that this poster was considered worth printing and worth sticking up.
You may be saying to yourself that this is only some permanently delusional left-wing splinter group, consisting of a combination of dysfunctional permanent students of nothing, and trainee MI5 agents, and you would almost certainly be right. Yet numerous votes and numerous referenda of exactly this delusional sort did actually happen in the EU, and continue to happen. Most recently, I believe, there was just such a vote in Italy, although I could be wrong about that and I don't care if I am because it really did not and does not matter. Time and again, individual EUro-nations choose or are invited, in one way or another, to pass their mere judgement on this or that aspect of the EU as a whole, and there then follows: nothing.
I think it was the sheer bloody confusion that I most hated about the EU, caused by the fact that the EU is in no way a real community, merely a gaggle of communities brought together and ruled by another community. No "decision" was ever what it seemed. Even those decisions that we Brits often thought we were making entirely for ourselves had at least two faces to them, the public face, which concerned what seemed to be the actual decision, and the less obvious face, which concerned whether and how this decision assisted the EU in becoming more EU-ish. In the end, no amount of voice was worth a damn. Only the threat, and in due course the reality, of exit counted.
Thank goodness that this ghastly episode is, for Britain, now coming to its end. Thank goodness we recently had a big old vote, a vote that actually decided something that we Brits were able to decide for ourselves, following something resembling a single mega-argument in which all who wished to could participate, and could hear all the micro-arguments, for or against, that they wanted to hear. And thank goodness we decided to get shot of this great big confusion machine. No matter how much of a mess us leaving the EU turns out to be, this process cannot in my eyes rival the relentless mess that remaining in the EU would have condemned us to. It's the difference between a mess that will eventually end, and a mess that would have gone on until the entire EU itself finally fell to pieces.
For the rest of the EU, the delusions and confusions persist.