John Lloyd is by-lined as "co-founded the Reuters Institute for the Study of Journalism at the University of Oxford, where he is Senior Research Fellow". And he has written a very revealing article on Reuters. In this, he criticises Trump, Boris Johnson, Marine Le Pen and Beppe Grillo for using intemperate language in political debate. Now these are widely divergent figures coming from different ideological directions (but they do have one thing in common: I will leave the readers here to speculate what that is), and I am a fan of none of them. Even the odious Cameron comes in for a bit of criticism but he is a bit of an outlier compared to the above list.
Hillary "Clinton has admitted that it was a mistake that she used her private server to conduct State Department business when she was secretary of state", so given that, John Lloyd feels Trump calling her "crooked" is simply beyond the pale. Likewise him calling Elizabeth Warren "Pocahontas" when she made an extremely dubious claim to be part Cherokee, is just ghastly.
Lying, well that is just politics (which is why Cameron may not be quite such an outlier after all, and he did share a platform with the person he "insulted"). But being disrespectful to a lying politico? Well clearly one of the pillars holding up western civilisation, not to mention all that is good and decent (but one could argue the typo "descent" is more appropriate), is being kicked away by these barbarians! Essentially John Lloyd, who is if you recall the co-founder of the Reuters Institute for the Study of Journalism at the University of Oxford, is writing about the frightfulness of lèse-majesté.
Oh I feel so much better about the state of journalism today having seen this.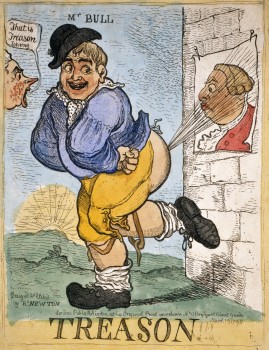 A long standing and quite appropriate traditional form of British political discourse.