It is, as I type this, only a few hours since the polls closed, and this graphic is not the result of Britain's General Election. It is merely a guess, based on asking people just after they had voted who they voted for. But, for what it's worth, here it is: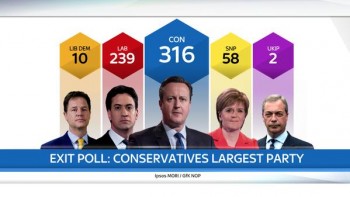 I found it at the Guido Fawkes blog, which has been the pair of spectacles, as it were, through which I have mostly been viewing this now-concluded election campaign.
I have learned the hard way that what I hope for and what will happen in elections are not the same thing, not least because I tend to choose my electoral spectacles on the basis of pleasure rather than mere enlightenment. But the story told in the above graphic is very close to what I was and am hoping for, given the plausible possibilities or likelihoods that it made sense to be choosing between.
(What I would have liked, in a perfect, parallel-universe and wholly implausible world, would have been an election in which candidates were falling over themselves to offer swingeing tax cuts and competing about who could close down the most government departments and slash and burn the most in the way of government spending. All this, while the voters all stood around jeering, and saying: "Yeah, they say they're going to slash and burn the public sector, but do they really mean it? They would say that, wouldn't they?" Dream on, Micklethwait.)
The TV broadcasters have now been saying, for several hours now, that the Conservatives are doing significantly better than had been expected but not well enough to be truly happy because destined to occupy more Parliamentary seats than everyone else put together, that the Scottish Nationalists are engaged in sweeping Scotland and annihilating the Scottish Labour Party thus causing Labour, who are not doing well in England anyway, to do very badly indeed in the UK as a whole, that the Lib Dems are taking a hammering everywhere, and that the UK Independence Party is going to get a small mountain of votes, including a great many from Labour, but only a tiny molehill of seats.
The biggest story, as I watch my telly in the small but getting bigger hours of Friday morning, is the electoral earthquake (choose your preferred geological or climatological metaphor) that is erupting, exploding, sweeping across, engulfing, swamping, blah blah blah, … Scotland.