If you are an anti-Corbynite Labourite, things are looking pretty grim just now:
By his disastrous widening of the franchise for electing the party leader, Ed Miliband has handed control of it to what a previous leader, Hugh Gaitskell, memorably denounced as "pacifists, unilateralists and fellow travellers" – people not only antipathetic to ordinary voters but anathema even to most ordinary Labour MPs. It will be hard, it may even be impossible, to get the institution back. …
Quite so, except that the people to whom the Labour Party has just been handed are not pacifists. They favour violence provided that it is inflicted upon Britain and upon civilisation by Britain's and by civilisation's enemies.
This is Robert Harris, in today's Sunday Times, and dragged out from behind its paywall here.
Such chaos cannot go on much longer.. Those MPs who either defy a three-line whip to vote for military action against Isis, or who are permitted to follow their consciences in a free vote, may well prove to be the nucleus of a new party.

If that sounds apocalyptic then so is the mood of many Labour MPs: obliged to watch at close quarters day in, day out, the incompetent antics of a leadership that has no hope of ever winning a general election but which is nonetheless impossible to dislodge.
But if you are a Corbynite Labourite, things are looking pretty good:
Formed as a successor to the Corbyn campaign, Momentum is in the process of setting up governance arrangements to represent its supporters amongst the Labour Party membership as well as the wider social movement which is springing up. As it grows, Momentum will develop democratic governance structures at every level of the network.
That being from the Momentum website. However, I prefer this piece of Momentum propaganda, which I spotted recently in the tube: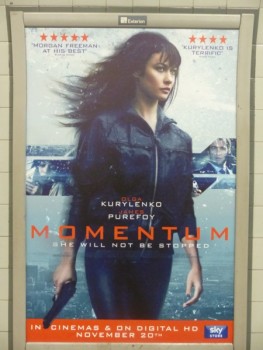 Who knew that political feuding could be so glamorous?
Here is another Labour Party related picture which I took, when walking beside a disconnected and unnavigable canal (a certain creek springs to mind) in north London earlier this year. Did the person who threw this sign into the water know something that the rest of us did not, about the future of the Labour Party?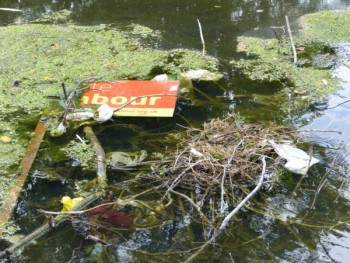 To be more serious, I am content to see the Labour Party reduced to a state of ruin.
All my adult life I have wanted to see the connection between, on the one hand, what you might call Underdogism – sticking up for the poor and powerless against the rich and powerful whenever those interests clash, and on the other hand, the belief that the only way to improve the world is by increasing the amount of political compulsion that flails about in it. This connection is at the core of the Labour Party. Labour was founded to use state power to impose political solutions that were supposedly going to help the poor and powerless. The world was going to be damn well forced to be better.
This certainly did some good for some good people. But it did a hell of a lot more good for a lot of bad people, and it did a hell of a lot of harm to a lot more good people. So, for all that the Labour Party may now, still, be one of our Great National Institutions, blah blah, I rejoice that it now seems to be toppling towards permanent insignificance. Much as I loath Momentum and just about everything that it stands for, I approve of what it is actually doing, which is wrecking the Labour Party.
Quite a while back now, there was one of those Labour's collapse is bad for the country because the country needs a capable opposition pieces in the Daily Mail. David Gillies, an occasional commenter here, attached to this piece a comment that I copied and pasted into my hard disc at the time, but I then did nothing with it. Here, now, is that comment:
This is begging the question that opposition to the Conservatives has to come from Labour. There's nothing intrinsic in the make-up of the UK electorate that makes that the case. It is entirely possible that Labour has simply run its course as a credible party of government, like Asquith's and Lloyd-George's Liberals did a hundred years ago. Opposition could equally well come from a libertarian party focussing on sound finance, low taxation, a diminution of the state, less hectoring from busybodies and an end to transnational progressivism. That party may or may not be in existence at the moment, but I see no reason why some version of it should not come about.
My sentiments, approximately. Not exactly, because I fear that there is a rather big reason why such a party will not come about any time soon, in a form big enough to be Her Majesty's Opposition. Not enough British people now believe in such a thing. But such a Party might now start getting itself together, and it might eventually get somewhere. I entirely agree with David Gillies in hoping so.