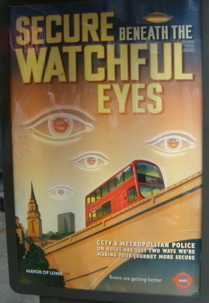 Across London, these posters can be seen telling us all that we are 'Secure beneath The Watchful Eyes' of the Metropolitan Police. I cannot tell you how much better that makes me feel. The imagery is pure 1930's/1940's and conjurors up the 'Golden Age of Totalitarianism'.
Britain is already a Police State in so far as the means for total repression are already well and truly in place. As the poster indicates all too well, Britain is the nation most under surveillance on Earth, Echelon monitors our domestic communications, our Internet usage is logged for years due to the Draconian RIP Act, our locations detected via our mobile phones and logged, all for the apparatus of state to access on very low level authority. Civilians are not just deprived of any firearms, in reality we are forbidden to defend ourselves and our property with so much as a broom stick. Our right to trial by Jury faces abridgement, even our ancient protection of Habeas Corpus is now a dead letter under European extradition laws.
Yes, we still have a fairly free press, in so far as the media are strong enough to prevent restrictions against their actions… yet do not dare to make an allegedly 'racist' remark or pour scorn on someone's religion or make a joke about Wales: if you do then expect to find yourself up in front of the Beak justifying yourself under threat of fine or gaol, and forget saying "I was just exercising my right to freedom of speech".
Is it any surprise that the powers that be feel they can dare put posters announcing that you are 'Secure beneath The Watchful Eyes'. Secure? From what? Surveillance increases daily at the same times as crime soars out of control, so if we are not 'secure' from crime, then what exactly is being secured? We face many threats in the modern world but the biggest comes from the people who would watch our every action so that the State may choose to judge us when it sees fit.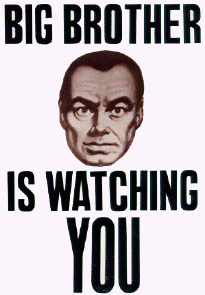 How long before we start seeing this poster?
Update: See follow up articles to this one on Samizdata.net here and here