Long time readers have no doubt wondered why I have become a scarce commodity on the pages of Samizdata; such readers also are aware of my long term connection with things spatial and free market.
For many years I have made some portion of my mostly meagre living in the Commercial Space arena. Staying in the game has been a costly proposition in terms of what I might have earned by simply forgetting the dream and just going for the gold. Those on the left seem to think that is what Libertarians do; but they are wrong. We are not about maximizing our wealth; we are about maximizing our liberty and doing what we want to do to the extent we can manage with our own resources. In my case, lacking much in the way of resource to begin with, that has meant surviving day to day on whatever short term contracts I could manage while I worked by myself or with others to gain a foothold in the then tiny NewSpace economy. I always thought it would be soon, really soon now… but this world for which I was born for took far longer than I had ever imagined to come to pass.
But it is finally happening and that is why there has been so little heard from me. I am now working under contract for XCOR, a number of whose members are long time Samzidata readers, out at the Mojave Spaceport in California. The future looks very bright for XCOR and many others in this industry. The big milestones are starting to get ticked off. SpaceX has had a stunning launch record and flew its Dragon to-be-manned reusable capsule in ProxOps [Proximity Operations] with the space station; Armadillo will probably bust the Von Karman line this year.
SpaceX is bending metal on the Falcon Heavy which will launch next year and will have the biggest lift capacity in the world. Of all the launchers that ever existed, only the Saturn V moon rocket was bigger. I suspect SpaceX will surpass even that before this decade is out. Bigelow has launch contracts in place and customers for his inflatable habitats that should be up around the mid-decade and will have a significant fraction of the capabilities and volume of the government owned space station. By the end of the decade or earlier in the next he will almost certainly have surpassed them.
By the end of this year or early next year the XCOR Lynx suborbital space plane will see air under its wings. As to when it will see vacuum under its tail, I could not tell you even if I knew for sure. It will happen when it happens and it will not be all that far in the future.
At first blush, Mojave is a speck in a vast desert, an old Western town that grew up into something not far removed from what you saw in old 1950's SciFi movies. It is so much so I would not be at all surprised to find that the folks from 2 hours drive West in Hollywood did some of those movies here. At night when I drop into the local gas station, there is usually a Sheriff and several troopers hanging out talking with the woman who runs the store: just like it was in those old films.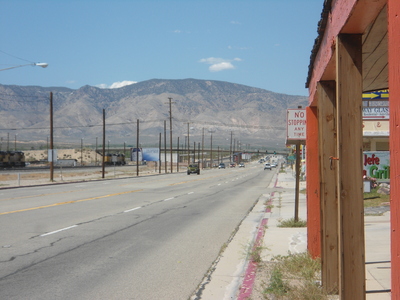 No gunfighters, but it looks the part.
Photo: copyright Dale Amon, All Rights Reserved
The current day town has three main industries. Wind farms and the railyards. If you are a train buff you would love the view from my motel as mile long freights go by just about every hour of the day.
→ Continue reading: On the scarcity of one Dale Amon and rumours regarding his whereabouts