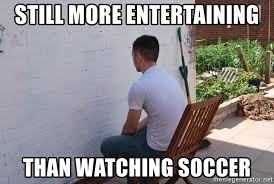 As is customary on these occasions, I would like to express the hope that it will be over quickly, and that everybody loses.
Seriously, though, if the British were serious about Brexit, they would stop playing and following this ridiculous and offensive round ball game that is so beloved of continental Europeans and Latin American thugocracies, and which in recent times has sold itself to the highest bidders in Russia and the Middle East, no matter how odious and disgusting. If you actually understood and realistically wanted to join the Anglosophere, you would disdain it. Certainly we in the rest of the English speaking world would have more respect for you if you did.
(Yes, I know you invented it. That's not remotely the point).