Festive photos to add to that photo of meat, from Christmas Eve, meat which I was lucky enough to share.
That evening we all did much toasting, and one of us photoed all our glasses while we were doing this. Many get angry about the modern habit of photoing food and drink just before it is consumed, but I say: Why not? Where's the harm?
On Christmas Eve I was too busy holding up my own glass and joining in the fun to be photoing it. But, I did take a photo of a very similar event back on December 18th, on Primrose Hill, just to the north of Regents Park: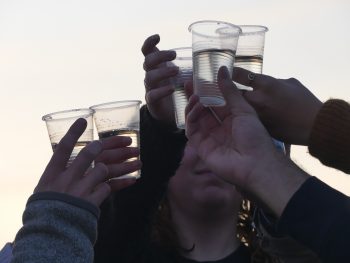 Christmas, or in this case the run up to Christmas, is a time to renew old acquaintances. I don't know who these people were and how they were connected, and in this time of computerised face recognition, I have deliberately made this difficult with my photo. Friends? Relatives? What I do know is that they were greatly enjoying each other's company, just as Perry and I and his other guests did on Dec 24th.
Later on Christmas Eve I did get my camera out, and I got this shot of our Dear Leader, enjoying a present that one of us had given him, of one of his favourite chocolate treats: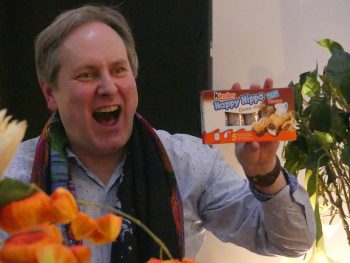 On a more serious note, I have been reading Deidre McCloskey's book, The Bourgeois Virtues. At the beginning of her chapter entitled: The Very Word "Virtue", McCloskey offers a number of quotes from bygone years, including this one from Benjamin Constant, who until now has been only a name to me. Apparently, in the year 1814, Constant said, in celebration of the greatly increased opportunities for human enjoyment that commerce was at that time beginning to make available to the generality of people, this:
The progress of civilization, the commercial tendency of the age, the communication among the peoples, have infinitely multiplied and varied the means of individual happiness. To be happy, men need only to be left in perfect independence in all that concerns their occupations, their undertakings, their sphere of activity, their fantasies.
Plus, a bit of spare cash and the chance to spend it on luxuries, like high quality meat (as Perry put it: "Duck with skin turned to quackling, stuffed with pheasant & wood pigeon"), and amusingly packaged chocolate. Here's another toast, to: stuff. The stuff that has, since Benjamin Constant's time, so greatly increased, by means of exactly the processes he refers to.
Concerning who and what Benjamin Constant was, I have yet to read this. Tomorrow, I intend to. Happy Christmas everyone, what's left of it.