Earlier today I chanced upon Trooping the Colour on the telly, which is the big old military parade they have in London on the Queen's "Official" Birthday. Mention was made of a flypast that was about to happen, and I immediately grabbed my camera and ran up to my roof, to photo what whatever of it that I could from there.
I had to wait a while, until 1pm. There was much helicopter activity, which seemed promising. Our Armed Forces keeping their eyes out for surface-to-air missiles, and suchlike devilry? Perhaps. Maybe just pretending to be doing that, in order to deter it. Whatever, eventually, I spied, way out beyond the multi-pointed Parliament Tower, two real airplanes, flying together. Which could only mean a flypast. No planes approaching Heathrow would ever bunch up together, like that, by which I mean like this: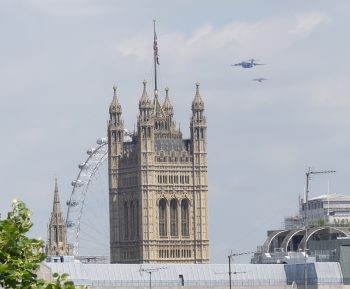 That photo was taken with maximum zoom, but eventually these two airplanes trundled towards me, and I got a rather better shot of them, although still with quite a lot of zoom: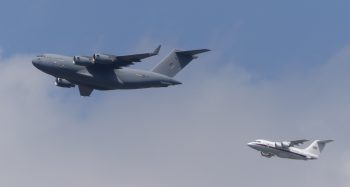 When I watched the television highlights of the show in the evening, they said that the biggest of the planes in this next photo was the biggest plane the RAF possesses: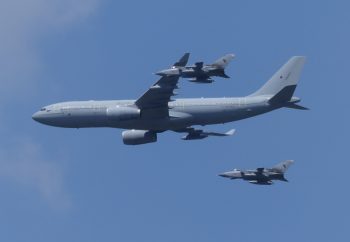 To me, it just looks like a Boeing Dreamliner in plain clothes. Don't they have any properly big planes? It occurs to me that the Dreamliner may be bigger than I had thought.
But at least I got to take semi-adequate photos of this dreary plane and its little sidekicks, and of its predecessor and its sidekick, above.
I had less luck with these guys: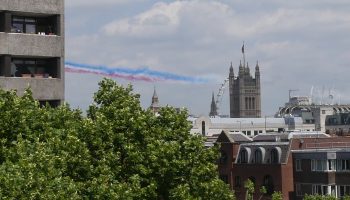 That's a heavily cropped close-up of them, as the Red Arrows (for it was they) vanished behind the big tower block in the middle of the square I live on the edge of, leaving only their jets of patriotic-coloured smoke.
Here is the original photo that the above is cropped from: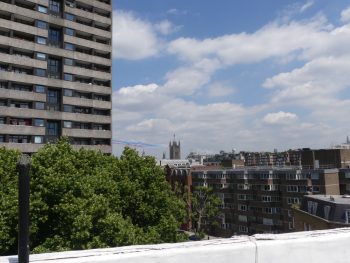 Which gives you an idea of how far away all this was happening, and how the direction of travel of whatever it was determined whether I would ever see it properly or not.
Unlike the earlier boring jets, the Red Arrows didn't disappear from London in a westerly direction, i.e. past me. They went north. And this was as close to an actual photo I got of them: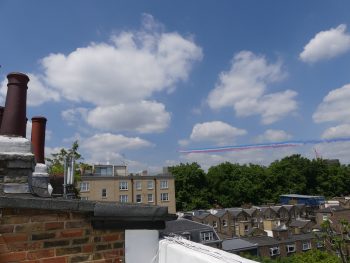 I never saw anything like this: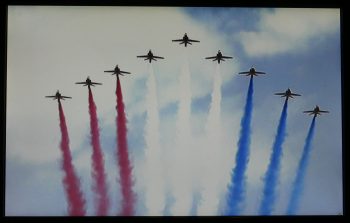 Whch is how the Red Arrows looked on my telly.
According to that same telly, a couple of Hurricanes and a Spitfire, or maybe it was the other way around, flying in a formation, were also part of the show. But I never laid eyes or lens on them.
Nevertheless, I account the trip upstairs a success. My purpose was to see how one of these London Queen's Birthday flypasts looked like from up on my roof, and I did. It wasn't nearly as good as the Farnborough Air Show, but I didn't expect it to be. It wasn't even as good as the New Year's Eve fireworks that I photoed from the same spot last New Year's Eve. But then, a firework occupies a lot more sky at any particular moment than an airplane does, and its entire purpose is to be extremely visible.
I actually find it quite reassuring that the British state's version of a ceremonial flypast over its capital city is so very modest, and that by far its most impressive moment features guys who are basically aerial ballet dancers.