Last night, at my own personal blog, I found myself getting really quite exercised about this utterly banal and ignorable headline…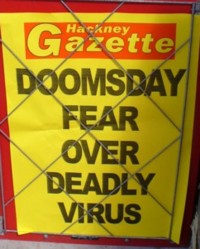 …which I snapped yesterday afternoon. And in a very Samizdata-ish manner, a style that has been eluding me somewhat, of late. So, here is a link to my rant from Samizdata.
I got up at 6 am yesterday, which would be early for most people, and is about the day before yesterday for me, and I spent all of the morning and half the afternoon working extremely hard. Now it is 6 am today. I am up again, and face a similar day. So maybe my rant resistance is, just now, lower than usual. Maybe now, unlike usually, I am angry.
But it was not all rant. I also found myself weaving in my favourite cock-up of the World Cup so far, which was committed last night by an English referee, during the game which saw the Aussies going through to the last sixteen of the competition.