Bjørn Lomborg, author of The Skeptical Environmentalist gave a lecture this evening (this was posted after midnight but still that same evening – ed) at the Adam Smith Institute in London. A number of the Samizdatistas were there. Lomborg's arguments are familiar to those who have read his book, but it was a rapid, powerful, to the point speech in which he demolished many of the arguments of the "The world is facing impending environmental collapse" school of Greenery with ruthless efficiency. His ten minute demolition of the case for the Kyoto accord was particularly impressive.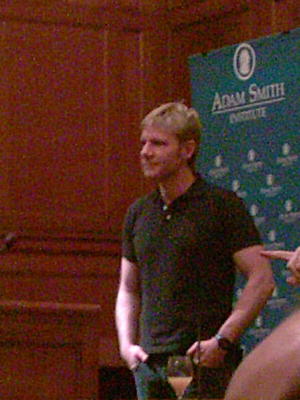 Lomborg walked on stage wearing a pair of jeans and a polo shirt, and looked just like the thirtysomething Greenpeace member and quintissential Nordic person of more traditional environmentalist views he once apparently was. He spoke with a rapid intensity, clearly wanted to get a lot out in the relatively short time he had for the lecture. And perhaps the rapidity of speech was covering up a certain natural shyness, but if so this was mixed in with what was clearly a burning desire to get his message out.
Lomborg told the familiar story of how he found himself in this position. → Continue reading: Bjørn Lomborg at the Adam Smith Institute.