When looking at the world around us, it is impossible to constantly take everything upon which we must form an opinion back to first principles: life is simply too short for that.
But to decide if a dog might be about to bite you, one must have at least some understanding of the nature of dogs and how they might act differently to cats or parrots or foxes or hippopotamuses (the later being a rare sight in London it must be noted). Whilst the propensity of a Golden Labrador and a Staffordshire Bull Terrier to chomp on you varies considerably, both are nevertheless dogs and thus act within the range of doglike behaviours to which their natures impel them.
And so to understand anything done by a state, the workings of its parts and how they are likely to impact upon your life, one must understand some of the basic underlying truth about the nature of states. All states are not exactly the same just as all dogs are not exactly the same: whilst a libertarian such as myself might lambast the United States or the United Kingdom for many and varied sins, it is clear to all but the 'rationality impaired' that the USA and UK are currently significantly less harmful to their subjects than the likes of Iraq or Myanmar or China or Belarus or Zimbabwe.
So when I recently wrote a couple articles about posters by a government body (Transport for London) aimed at garnering public support for increasingly panoptic mass surveillance, some commenters (a minority it must be said) took exception to the idea there might be anything sinister about the vast proliferation of CCTV cameras in Britain to which the state has access. Britain after all, is not Nazi Germany or North Korea, so what is the problem?

Trust us. Constantly. The second you step out of your front door.
Nevertheless, all states, like all dogs, do indeed share some common irreducible aspects to their natures. Without getting into the intractable and interminable minarchist versus anarchist inter-libertarian debates of the legitimacy of any form of state, it is fair to say all modern states however democratic and 'liberal' suffer from a type of progressive moral cirrhosis. Take the remarks in the Telegraph regarding Britain's socialist National Health Service:
Rather as in the old Soviet Union, many managers now think it safer to fiddle their returns rather than send bad news back to the centre. This week, for instance, the Department of Health claimed that no one now has to wait more than 24 hours in accident and emergency, a claim that was flatly contradicted by the BMA [British Medical Association]. It has got to the point where we now routinely expect schools to massage their test results and hospital managers to fiddle their waiting lists. No wonder people's everyday experience of schools and hospitals so rarely seems to accord with the glowing reports presented by the Prime Minister and his colleagues in the House of Commons.
Yet Britain is not the Soviet Union and although it does imprison the most number of people per capita in Europe, there is no network of gulags or mass murders to enforce the governing party's supremacy. Unlike Saddam Hussain, who holds sham elections in which 100 percent ('if not more') vote for him, in the democratic western world, elections are free and fair. Well, sort of. They just gerrymander the way people vote. Of course this is not the same as what Saddam Hussain does but it is certainly the same species of behaviour.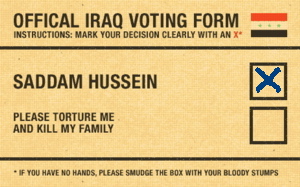 Democracy, Iraqi style: happiness is mandatory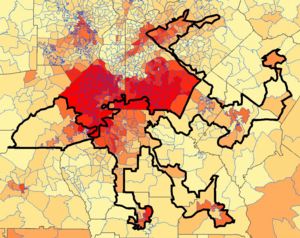 Democracy, American style: representing who exactly?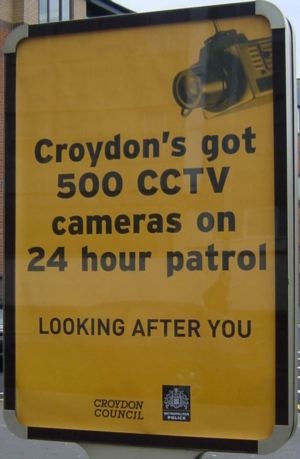 Democracy, British style: looking after you, like it or not.
(Photo: Mike Scott)
So why, given that we are constantly told how superior democratic states are to their benighted totalitarian counterparts, do we see time and time again the same toxic behavioral characteristics, albeit manifested in less homicidal ways?
It is because all modern states exist primarily to do things. By this I mean do more than just guard the boundaries of society (i.e. keep out marauding Turks, put out fires, run law courts). All states have always done things, such as waged wars, built aqueducts or whatever, but not all states have existed to primarily do things beyond aggrandise the King/Tzar/Chief/Khan/Sultan etc… stay out of the state's way and it tended to leave you alone. That did not mean that such states were not capable of acts of breathtaking tyranny, just that unlike an overtly interventionist state such as we all live under these days, to a large extent the pattern of your life was social rather than political: if your children were schooled, it was because that was the custom and it seemed the thing to do, rather than because the state threatened you with arrest if you did not acquiesce to your children being conscripted for mandatory collective education.
Much like dogs, some states are more vicious than others but ultimately the people who grasp the levers of power do so in the knowledge that they are there to do things and that knowledge alone is the source of their inevitable corruption by the system they are part of. That is why in the long run it does not matter which state wants to envelop their subjects in panoptic surveillance, because in the end no state can be trusted to have such information at its casual disposal because states cannot be trusted to act other than as states, and all states are to a lesser or greater extent corrupt. It is the nature of the beast.