In my recent post, "Peace-lovers love using the passive voice", I asked you to supply particularly egregious examples of media attempts to downplay murders by Hamas and other protected groups. Ben did just that. From Canadian TV:
Canadian peace activist Vivian Silver, who went missing after Hamas attack, has died. https://t.co/fR6XfiN9uE

— CTV News (@CTVNews) November 13, 2023
In case it disappears, the tweet from @CTVNews says, "Canadian peace activist Vivian Silver, who went missing after Hamas attack, has died."
The use of "has died" rather than "is dead" makes it sound like she passed away in hospital within the last few days. Actually, she has been dead for a month because she was murdered on October 7th, alongside more than a thousand others. The only thing that has happened within the last few days is that they finally identified her remains. In most situations I would not read so much into a journalist's slightly odd use of the present perfect for an event a month ago, but when every such oddity of phrasing works to push the murderers out of sight, it is not a coincidence, it's a technique. Most headlines are written to grab the reader's attention; these headlines are written to be forgotten. Like the small print in a dodgy contract, they are carefully crafted to meet the technical requirement of having been stated somewhere, but, in a betrayal of the normal function of journalism, those who write them would prefer you not to read on. That someone "has died" is scarcely news at all. Every morning's news report gives its crop of vaguely prominent people who have died during the previous few days. They don't want you to think about when or how she died. They don't want you to think about the state in which Vivian Silver's body must have been found, given that her remains were not identified for a month. They don't want you to feel the horror of her murder.
I am going to post an image. If I have done this right, it will be hidden "below the fold", so you must click the link in order to see it. I put it below the fold because it is horrifying. Am I doing the same as CTV in that tweet I was complaining about, then? No, the opposite. They do all they can to stop their readers ever thinking about the reality of terrorism. I am giving readers who cannot stop thinking about it the option not to see one particularly distressing photograph. The image I am talking about shows a poster put out by the Royal Ulster Constabulary in response to the La Mon restaurant bombing carried out by the IRA in 1978. These days people discussing this poster feel obliged to blur it out, but in Northern Ireland at the height of the Troubles they were not so sensitive. The poster shows what CTV and so many others in the modern media want to hide. Again and again, it says the word they will not say.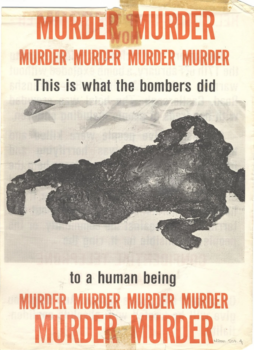 MURDER MURDER MURDER
This is what the bombers did
to a human being
MURDER MURDER MURDER