The future in Britain is actually quite clear: either Theresa May gets deposed and we get a meaningful Brexit of some kind, or we get Prime Minister Corbyn by a big margin in the next election. It doesn't matter if you think Brexit is good or bad, or want it to happen or not happen, the Referendum vote was what it was, and that is where we are now.
Corbyn cannot win on his own merits, but Theresa May can hand him victory by making the Tory vote largely implode. Only May can deliver the UK to Corbyn.
The government did not have to hold a referendum, it chose to for several reasons more to do with internal Tory politics than anything else. But it did hold one, and having done so whilst being really quite unambiguous about what the issue was…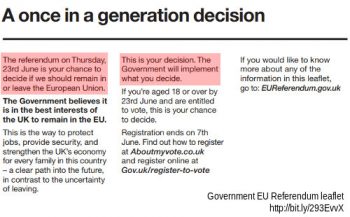 … it cannot then effectively ignore the result without delegitimizing not just the party but the British state itself, with serious long term consequences for the very stability of our culture. May must go or a great many even worse things are going to happen, and I hope that is obvious to dispassionate observers on both sides of the actual vote.