The Sage of Kettering and I have been on another trip, not to some distant, warm, European setting, but a distinctly chilly Suffolk on a bright early Spring day. Here is my account of our trip to an oft-overlooked corner of England and a dip into the past, focusing on the damage done by the iconoclasts. I am indebted beyond measure to the wonderful Suffolk churches site for inspiration on what to see, and links to pictures.
The first stop was a quick look at a proper windmill, unfortunately under repair, the Post Mill at Saxtead. So much more attractive than the hideous electric-powered windmills that clutter the landscape, sucking up subsidies and slowing down the wind.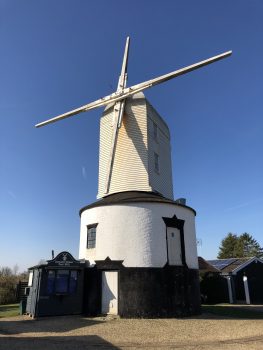 Next stop, the focus of our trip, Framlingham Castle, a series of towers with no inner keep, but it does contain an old Poorhouse. Noted as the place where Mary Tudor was when she was proclaimed Queen after the tumult of Edward VI's death, and she then went on to make her mark with an unwise marriage and her trademark of barbecuing Bishops.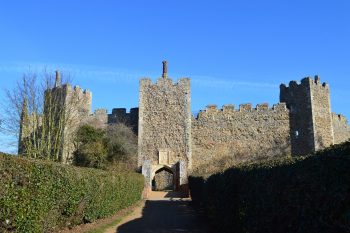 The walls of the castle are impressively high, with an excellent ditch.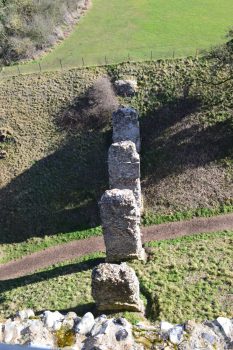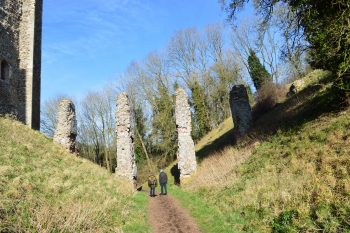 Around the towers, there are Tudor chimneys, allowing some local heating.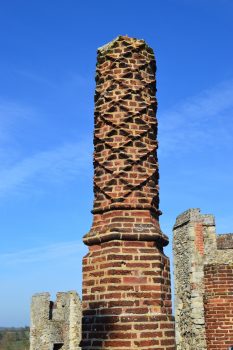 The castle does not have a keep inside it, it is just a wall with a series of towers. The space inside was used to build a poorhouse.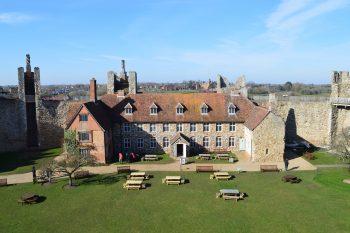 And in the Poorhouse is a local museum, with a fine collection of curious, including this tribute to General Pershing and his Crusaders.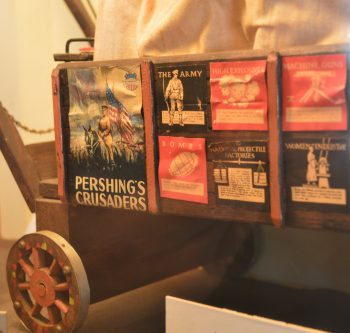 The Sage decided to try out the headgear, it might be useful with canvassing with local elections coming up.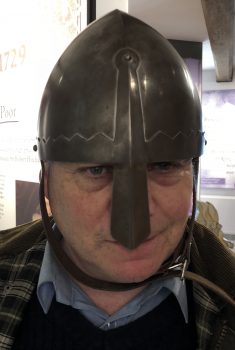 The small town of Framlingham is delightful, with a nice Saturday market. Here is a street, very typical of Suffolk.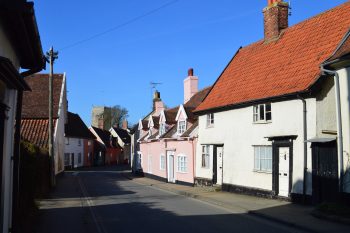 The town's church has tombs of the Duke of Norfolk's family, and a bastard son of Henry VIII, as well as a rare surviving 14th Century font. Oddly in this church, they say that the organ is a rare survivor from Cromwell's vandalism, which is odd as they date it from 1674, and even Tumbledown Dick had lost power by 1660, although he was Great Britain's second-longest lived Head of State, he did not spend his retirement finishing off what his father had left, and in any event, much of the 'Popery' in England's churches was destroyed under Edward VI, and William Dowsing (a local) finished off most of what remained under Cromwell.
Moving out from Framlingham, we began a tour of a few of the many delightful churches of Suffolk, made of flint rubble. First stop, Dennington, with a delightful lunch spot of a 16th Century pub, with some local cod.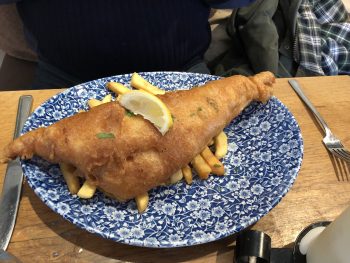 Next door to the church, has some wonderful mediaeval wood carvings, (not destroyed as they were not idolatrous) including England's only mediaeval carved tortoise.
A giraffe, the craftsman presumably did not know that the beast keeps its head up.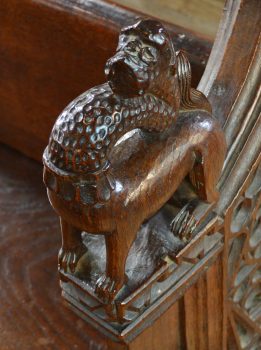 And a sciapod (or monopod), a desert creature attested to by Pliny the Elder and others, who uses his incredibly large foot to hide from the desert sun. Reportedly, the compromise that is a solution to all the quarrels of the Middle East is written on his foot.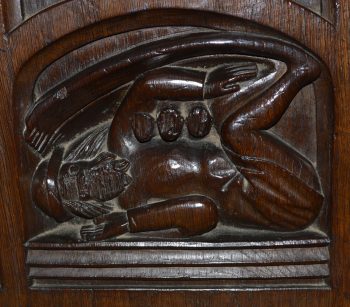 Note that here in Suffolk, the Sixth Commandment is 'Thou shalt do no murder', which crops up again and again.
Moving on to Bramfield.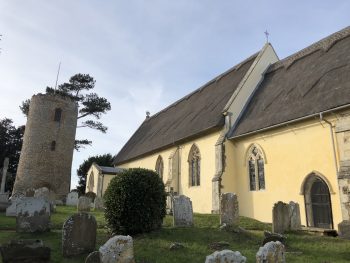 This is one of the many 'Round Tower' churches that dot East Anglia (Norfolk being their redoubt), a wonderfully pretty church, with a detached tower. Notable inside, the tomb of a son of Sir Edward Coke, Lord Chief Justice, and a tombstone telling a story of a lady's troubled marriage and subsequent happiness, which can't really be summed up.
From Bramfield, the nearby hamlet of Thorington, now but a few houses, down a narrow track, another Round Tower church, takes us to one of the most poignant spots, a memorial inside records the deaths of two brothers on consecutive days in May 1918, and perhaps two other brothers more separated in time. The church bell was reportedly donated by Sir Edward Coke, and is still in place.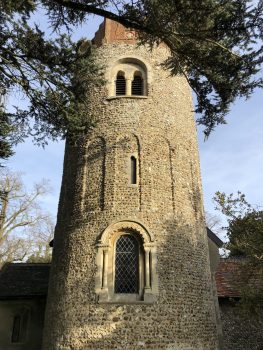 And near the base of the tower, a defaced Angel.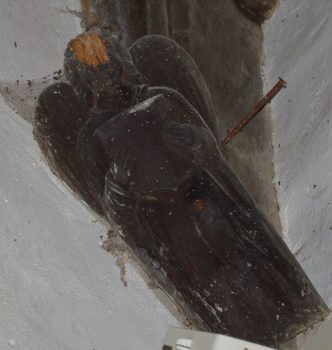 From here, we move on to Wenhaston, where we met no less than the Devil himself. Wenhaston has a 'Doom' painting, from around 1490. It was whitewashed over as 'idolatrous' c.1550 and left in place, until in 1892, in renovations it was removed, the workmen dumped the timber outside the church as firewood for collection, and it rained overnight, removing the whitewash and revealing the painting concealed for a third of a millennium.
Of the various scenes, there is the Devil and Saint Michael, weighing souls for the Last Judgment.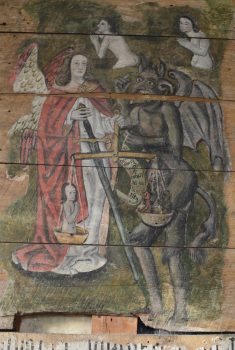 Jesus, looking to me like a caricature of a 1960s Hippy.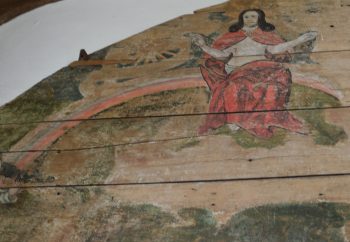 And Demons torturing the Damned, with a behemoth sea monster swallowing them up.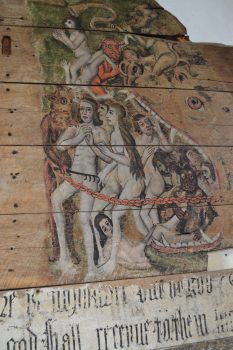 So you can all know what to expect.
From Wenhaston, we stop briefly at the tiny church of Blyford, a small village nearby. Noteworthy is another sad reminder of WW1, a Flanders Cross, the initial grave marker of Captain Day RE, whose remains lie in Belgium. These crosses were taken back to the UK once permanent gravestones were in place. However, Captain Day was from Kent, and his cross ended up here in the post-War chaos, but was kept. A lost reminder of a lost generation.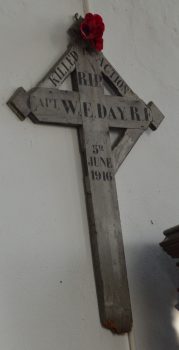 The furthest part of our journey was to the church of Westhall, which is, oddly, nowhere near its village, a good half-mile away across fields and is hidden away down a remote track with a couple of houses around it. Apart from being in the middle of nowhere, it is also odd in that it has two wings, one Norman, the other having been added during the 13th Century.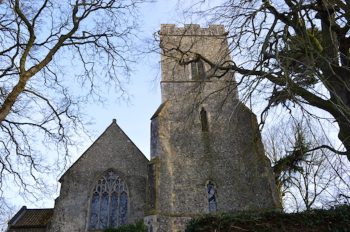 Westhall's features include a surviving but vandalised mediaeval font, which retains some of its original colour.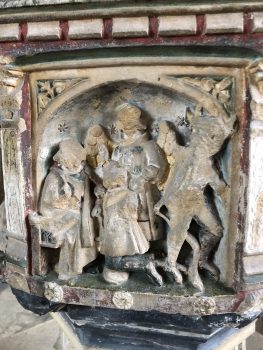 It has some Norman gargoyles in an old, internal arch.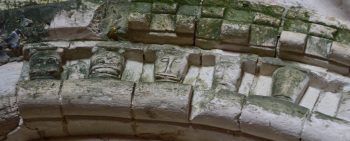 And amongst the wall paintings, there are representations of Moses, with horns, apparently a longstanding trope about him arising from a mis-translation of a description.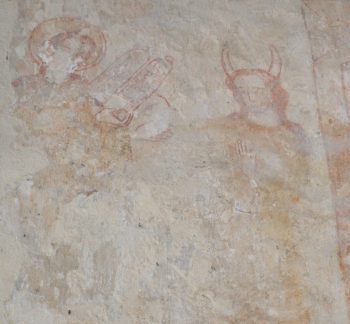 The church has a fine roof.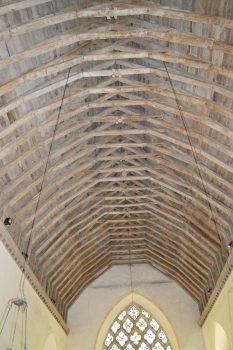 And for some reason, a bishop is up there in on the beams.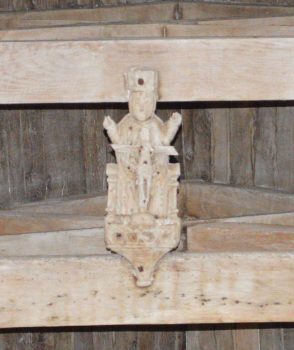 Moving on Blythburgh, a fine church that dominates the marshes it overlooks. In the skies above this church, Joseph Kennedy Jr. and his crew died during WW2 when their drone bomber exploded prematurely. Had he lived, it could well have been him, not JFK, running for office when Eisenhower retired, and the last 50 years of history might well have been somewhat different.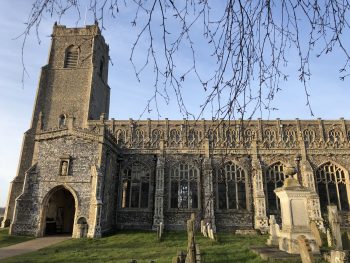 Blythburgh is noted for its many carved angels (Victorian replacements).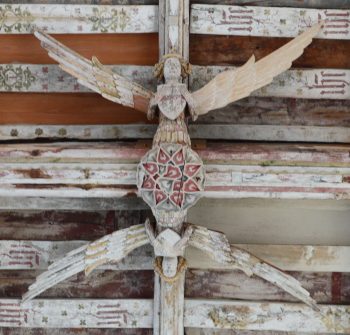 There are also what appear to be Menorahs.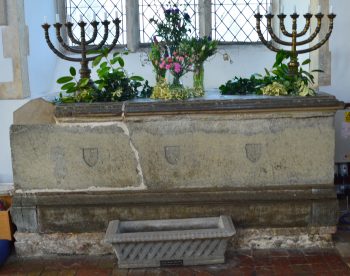 Blyrhburgh also has fine carved bench ends, here is one the Seven Deadly Sins, gluttony.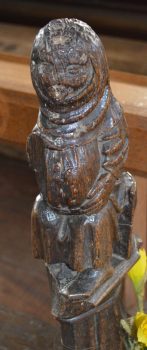 And in this church, a 15th-Century Peter's Pence box, starting c. 750 AD money collected from these boxes went to Rome.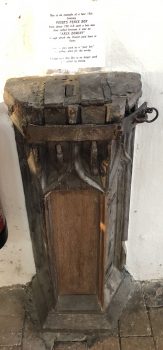 Henry VIII put a stop to that in 1534, and the box here was used as a 'poor box' for the locals. I wonder what Henry would have said, had his 'Chancellor' been Theresa May, with her telling him that in order to break from Rome, Henry's 'divorce bill' would be something like, oh, 40,000,000 Sovereigns?
So a taste of Suffolk, a delightful county; where else might you meet a tortoise, giraffe, Monopod, Moses and the Devil, all in one afternoon?
Edit: Following Surellin's comment at 3.15pm 27.02.18, here is a picture of the mill from the side, which might help. I took the name 'Post mill' from the English Heritage signage at the site.