This may seem a rather strange proposition, but in terms of 'housekeeping', there are various aspects to running a 'household', and I am comparing the financial discipline and general acumen of the First Lord of the Treasury (aka Mrs May) making the analogy to running the national 'house' to the practical but non-monetary skills of a badger, or rather, some badgers local to me.
The other day I found a badgers' latrine on my morning walk, it was rather obvious, a 'not-quite steaming' pile and I immediately thought of the Prime Minister. I was struck by how careful the badger is to look after his household (or rather, his sett) and not to dump in it, instead using a carefully-dug latrine. This one was unusual in that it was very close to the roadside and highly visible.
Whereas it seems that the Prime Minister is quite happy to dump on the country a €20,000,000,000 bill for the privilege of leaving the EU and letting the UK run a trade deficit with them, and also dump a load of regulations on the UK. If you are going to make a payment, at the bloody least make it in Sterling, so the Bank of England can QE the money out of thin air (if this has to be done at all, which it doesn't) and they can spend their nice pounds rather than HMG buy Euros. The good folk at Lawyers for Britain have debunked the case for any payment to be made for leaving. How about telling the EU that if your income falls, you cut costs, so that there are fewer than 10,000 in the EU earning more than the UK's Prime Minister (which ought not to be an 'office of profit' under the Crown anyway).
The plan to graft into UK law all EU Regulations has at least the attraction of providing certainty, but why not plan a bonfire 'On Day 1' to quote the Donald (yeah, it still hasn't happened).
So if I have to choose between the two?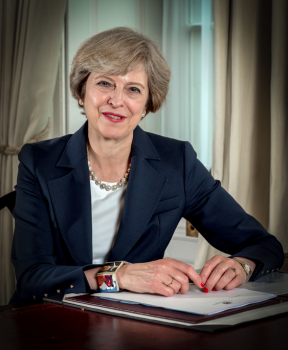 or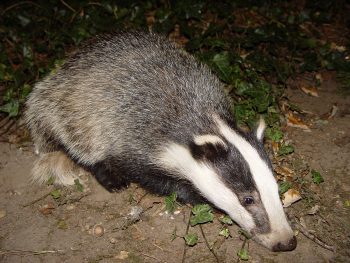 Having had to negotiate with a badger at 3 am one winter morning to get him to leave my garden, in my pyjamas and armed with only a garden fork for self-defence (this is England), I can testify that they do not give up a position easily, but my bluff worked.
To be fair to Mrs May, the badger seems to know instinctively not to foul its home, however, this is a skill that some of our politicians have yet to learn, and they are so very busy doing the opposite, it may take some time for them to lose their habits, but why?
Photo credits: Per Wikipedia, The Rt. Hon. T May MP, per Controller of HMSO – Own work, CC BY-SA 3.0, Badgerhero.