I have long believed the thing that Milton Friedman is quoted saying in this bit of graphics: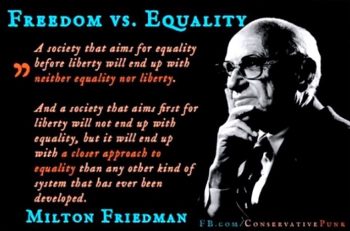 And I am pretty sure that I first clarified this idea in my head at around the time when I first heard Milton Friedman saying this, and that this was not coincidence.
I screen-copied the above graphic from this video, which is Jonathan Haidt giving a talk about Socialism and Human Nature. It lasts just under half an hour, and I recommend it. The above Friedman quote comes near the end, at 23m 05s.
The world is so full of nonsense that particular bits of nonsense often get neglected by the people who ought to be pointing them out, because these people are so busy with other bits of nonsense.
The particular bit of nonsense that Milton Friedman and I are not here neglecting is the claim that equality can be achieved by the forceful redistribution of resources, and the more of that the better. Not only is such "egalitarianism" tyrannical, which makes it bad by my preferred standards and by Milton Friedman's preferred standards, because it is tyrannical. It is also fails by its own standards, hence the sneer quotes. It doesn't achieve equality. On the contrary, it rearranges inequality in a way that makes the inequality worse.
The very act of imposing equality requires that the imposing "egalitarians" be unequally powerful and lavishly rewarded for their brutal efforts, compared to the wretches upon whom they are imposing the equality. Name one purportedly egalitarian regime where they actually have achieved any serious reduction of inequality. You can't, because there has never been one.
This is clearly the case in hell-holes like Cuba and Venezuela, where the masses languish in poverty, where the bosses live like kings and where the henchmen of the bosses get more or less lavishly preferential treatment (because if they didn't they'd stop henching). But I include in the above assertion (that equality cannot be successfully imposed) the relatively genteel cruelties of the British welfare state, and other welfare states like it around the world. Have these relatively benign socialisms got rid of any poverty, any cruelty, any inequality? Well, some, to begin with. But they have then unleashed far worse and bigger doses of poverty and inequality. If the long-term purpose of the British welfare state had been to make poverty and inequality far more permanent and far harder to eradicate, it would have done almost nothing differently to what it has done.
Any critic of socialism who says something like: "the result of socialism is equality of misery" is being seduced by a nice sounding phrase into not thinking about what he is saying, and into conceding far too much. Here is no less a personage than Winston Churchill, who loved fine phrases to distraction, saying something a lot like this, among other and truer things, which perhaps explains why so many British Conservatives of my vintage still say things like this.
A libertarian world, just as Milton Friedman says, is the least unequal world that can be contrived. I'm not going to argue that point in detail. I merely assert it, to clarify that I regard myself and Milton Friedman as egalitarians of the best sort, as better at egalitarianism than the socialists, as egalitarians of the rough-and-ready, best-we-can-do sort, without any sneer quotes.