History, goes the old rhyme, is about chaps, while geography is about maps. Tim Marshall's book, Prisoners of Geography, is all about how these two matters are actually very hard to separate. What the chaps think and do, says Marshall, is profoundly influenced and often downright determined by the circumstances described in the maps.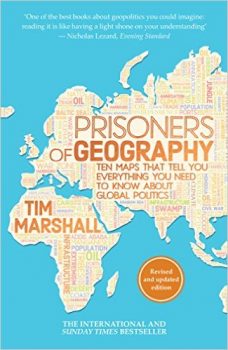 When I bought this book, in a remainder shop, I did not know who else was reading it. I am fascinated by the impact of geography upon history, but is anyone else? Since buying the book I have learned that it is now a best-seller. This pleases me, because it is a very good book, and in particular a very unsentimental book.
Britain and Western Europe, and then the other parts of the world where English is the dominant language, have mostly been blessed with a degree of geographically conferred freedom of manoeuvre that is denied to the inhabitants of pretty much all other nations. That is why these places got rich first. And it also now means that we Euros and Anglos are able to believe, as a matter of practical political policy rather than merely as privately pious aspiration, in a wide range of idealistic things of very variable value – things like freedom, democracy, equality, human rights, freedom for women, "social justice". and so on and so forth – things that geographically more constrained people can only, as yet, dream of, and which they often regard as more as a threat to their own ways of doing things than as any kind of promise.
Another book that Marshall refers to quite frequently in this book is Jared Diamond's Guns, Germs and Steel, which also offers a fundamentally geographical explanation for these facts. I share Marshall's admiration for this book , and it heads the bibliographical list at the end of Prisoners of Geography, but this is an accident of spelling. I was also intrigued to see in that same list two works by Halford Mackinder, in particular Mackinder's Democratic Ideals and Reality, a title which Marshall might have picked for his own book had it not already been taken.
Why, for starters, did the modern industrial era that helped to create all that freedom of political manoeuvre for the world's luckier people, having kicked off in Britain, then, after an imitative surge in Western Europe, then see its centre of gravity shift to the USA? Well, there are many reasons.
I was particularly struck by what Marshall says about the contrasting impact of rivers. The great rivers of Europe and North America, the Rhine and the Danube, and in the USA the Mississippi and its tributaries, are all super-highways, making a single market of Europe and helping to make the united super-state of the United States. I wrote here a while back about how one of the first great impacts of steam power was in supplying steamships for these great rivers
Africa's rivers are quite different. Africa is not only very big. It is also, in the middle, very high. Africa's great rivers are constantly interrupted by waterfalls and rapids. So, although these rivers supply an abundance of water (along with potentially severe quarrels about water), and now increasing quantities of electricity, what Africa's rivers fail utterly to do is connect the many distinct communities of Africa to each other, this being on of the reasons why these communities, with their numerous local languages, are and are likely to remain so distinct. This cultural and economic fragmentation means that Africa never was, is not now, and is not for the foreseeable future likely to be the kind of political superpower that the USA has long been, for all that many parts of Africa are now surging ahead economically.
This matter of the world's great rivers and of the differences between them is an example of stuff that I sort of already knew. Sort of. And here lies one of the things about this book that I most relished, which was that it alluded to all manner of things that I sort of knew, but then pulled it all together, put the pieces of the puzzle together, connected what I sort of knew about the geography of this or that place with what I sort of knew about its quarrels and its political preoccupations. I now know lots of things better, that I only sort of knew before reading this book, and I now sort of know a whole lot more stuff.
On the USA, Marshall is an anti-pessimist. He notes the constant prophecies to the effect that the USA has had its great moment, and that from now on it will be just another country, one among many. Marshall looks at his maps, and sees the USA continuing to be blessed with geographical advantages that statesman elsewhere can only dream of.
The word "maps" being in its subtitle, along with the bombastic claim that these maps tell you all you need to know about the world, these maps ought to be really, really well done, from the graphic point of view. But to my admittedly fading eye, they seemed to be not that good. On their own, they tell you nothing like everything about the world, which is why you actually need to read the book to get the points of all the maps. I was particularly disappointed by how the mountains look in these maps. Along with rivers, mountains are a big deal in this book, as you would expect them to be. But, in these maps, the mountains often scarcely register. It doesn't help that the maps are done only with black ink on white paper. Colour would have helped. But even black ink could have been used, I feel, with somewhat greater clarity. I had to look quite hard to work out where these various mountains were. But, as I say, maybe that's just me. My eyesight is definitely not what it was.
The mountainous insight I recall with particular pleasure is Marshall's observation that the hostility between India and China would have been and would now be far greater, were it not for the most impenetrably formidable mountains on earth being at the boundary between these two civilisations. Contrast those impenetrable Asian mountains with that famous gap in the mountains in northern Europe, which results in a gigantic military parade ground with no natural barriers stretching from the Pyrenees to the Urals.
In addition to knowing better about Europe's mountains, I now sort of know a whole lot more than I did about the mountains of South America. South America is, for me, one of the less fascinating places in the world, because, being so geographically cut off from the rest of the world and being of significance mostly only to their northern neighbours, South American mistakes count for a lot less than mistakes can elsewhere, especially mistakes made by the USA and Europe of course. South America, you might say, is basically just a big clutch of European mistakes.
Speaking of European mistakes, Marshall is very good on the habit of late nineteenth century Europeans of drawing straight lines upon maps of foreign parts, in defiance of geographical and consequent social and cultural and now "national" realities on the ground. The USA gets along fine despite all the straight lines that it contains dividing its states, because these states are, fundamentally, still very united, at least in the sense that everyone in them is quarrelling about the same things within the same political institutions. But the Middle East is still trying to shake free of its baleful legacy of fake states, which Europeans and now also Americans, all motivated by the need for oil, have expended so much of their own treasure and so much Middle Eastern blood trying to keep in being.
However, Marshall does not fall into the trap of attributing everything that is wrong with the Middle East to European interlopers. People were quarrelling murderously with one another in that part of the world long before the Europeans became a force to be reckoned with there. As I say, this is a notably unsentimental book
The sea also looms large, as it should, what with the sea itself being so large. Russia's continuing obsession with getting hold of a warm water, all-year-round port being much mentioned as a motivator of Russian policy. It is suggested that the recent Russian (aka Soviet) foray into Afghanistan was motivated by what lay further to the south of Afghanistan, in the form of a warm water port on the coast of Pakistan.
More interestingly, for this Brit, was the fact that for people in the big southern continents of South America and the bottom end of Africa, the sea looms so large as a barrier. It is just so very, very big, and everything else is just so very, vary far away. We Brits like to think of the Atlantic as this big barrier between us and our rowdier and bigger young brother, the USA, which involves or used to involve huge exertions to traverse. But look at the map of the world, preferably undistorted by Mercator, and compared to the southern Pacific Ocean, the north Atlantic looks rather more like the English Channel. It also matters a lot that the coasts of Africa and South America are not blessed with an abundance of natural harbours.
The plan of the book is that each major continent is given its own chapter. We start with a brief geographical description of the territory, and then how that constrains the politicians, and upon this foundation we then get a potted description of all the big current events roiling the place and the hostilities bubbling along within it and with people in nearby continents.
For me, the final chapter was as informative as any of them, being about a cross between and ocean and a continent, in the form of the Arctic. There is much debate about whether global warming is continuing or has pretty much stopped, but what is not in doubt, unless Marshall is seriously misleading everyone, is that during the last few decades a lot of Arctic ice has melted, and transport and resource extraction opportunities across the Arctic have opened up. For many decades, airplanes have travelled along great circle routes across the Arctic. Now ships are starting to do something similar. All of which means a new arena of intensified political conflict. I particularly enjoyed the bit where Marshall notes that, not long ago, the government of Russia tried to have the world rename the Arctic Ocean as the Russian Ocean. Interestingly, Marshall points out that the USA, in extreme contrast to Russia, has not been much exercised about the Arctic.
So, how does all this impact upon the Samizdata agenda, and our attempts to fill the world with ideas of freedom and abundance and economic success, and our constant challenges to the assumption that the world will forever be trapped in lots of fixed or diminishing sum quarrels between contending nations and predatory bureaucracies with irreconcilable and deeply anti-Samizdata-ish agendas of their own? Well, despite all the influences described in this book, the world is becoming, for more and more people, a more abundant and hospitable place. More and more people the world over, because they can, are being drawn towards a more liberal and pacific and anti-anti-foreigner attitude to life. Marshall's book does not contradict that claim. This is indeed the road that humanity is now travelling along. But what this book does do is remind us of all the many local barriers and boulders which are to be found strewn across this road. Geography may be diminishing somewhat in its impact upon human life, but it is not going away. And people are not the same in their political and ideological experiences and prejudices, which means that any ideas about how we are all citizens of the world, in just the way that our particular local tribe of cosmopolitans happens to be and is trying to be even more, will encounter more roadblocks. Chaps will still need to think about maps. People in those rich and lucky European and Anglophone countries are still confusing their own experiences and aspirations with those of people everywhere, and learning the hard way that they have much more to learn about the world than they realised when they emerged from their schools and colleges. These are the people this book is particularly aimed at, and the good news is that a decent number of them seem to be paying attention to it, and to the skeptical and cautious and inquisitive agenda that it offers. Or I hope they are. I hope it's not just oldies like me.
So, should you join the throng of readers that this book has already attracted, or should you be content merely to have read what I have said about it? I don't know, but I hope you have got some clues from me as to the answer to this question, if it concerns you. What you already know about the world and its geographical influences upon politics, and what you already sort of know about such things, isn't going to be the same as what I knew about and sort of knew about these things before I read this book. But my guess is that if the matter of how geography shapes politics does interest you, you would learn quite a lot from reading this book. In particular, many things that I have not even mentioned would strike you as very interesting, in much the same way that things I have picked out struck me as very interesting.