Like all London-based libertarians of a certain vintage, I have fond and vivid memories of Tony Hollick, who died in October of this year. At the time when he was most active in the British libertarian movement, when that movement's membership was numbered only in the dozens or less, people like Tony made a huge difference, attending and helping to organise meetings, writing and editing and, as is explained so well below, above all, arguing, which is what you are bound to do with ideas if you take ideas as seriously as Tony Hollick did. The moral and intellectual support that Tony supplied, in particular, to the late Chris R. Tame, was especially important and valuable. And see also this obituary of Tony Hollick, by Tim Evans.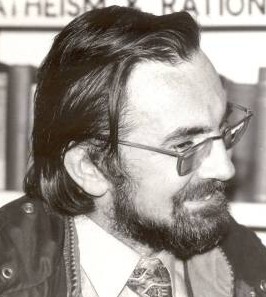 Last week, on Wednesday December 7th, Tony Hollick's funeral took place at Beckenham Crematorium, London. Below is the eulogy that his much loved godson, Gerald Hartup Jnr, wrote and read out on that sad occasion:
Tony was my godfather and I loved him dearly. He was one of my father's oldest and closest friends and was much loved by all in the Hartup family.
He was a spectacular teacher, kind, generous with his time and very patient. As I was growing up reading philosophy, economics, politics and following current affairs I would always discuss these matters in depth with him. He was a superb sounding-board and I was very lucky to have spent so much time speaking with him. I learned a vast amount from Tony and am eternally grateful to him for that.
Tony did not like authority (huge understatement!). He particularly disliked authority when combined with a sense of injustice. He was a man with an extremely strong view on what is right or wrong and had an unbendable set of guiding moral principles. He was stubborn, passionate and had fire in his belly which would be shown in glorious style when he encountered something he considered wrong or unfair. This was a trait he displayed early on when as a boy he was expelled from two of the finest schools in the world – Dulwich College and Geelong Grammar School. A common theme behind both of those expulsions was a steadfast refusal to accept or yield to what he felt were unfair treatments and practices. He had a powerful sense of righteousness and this was always evident in the social or political causes he championed.
Tony is one of the most erudite people I have known. Not attending university did not hinder his accumulation of knowledge as he devoured swathes of books. His studies were broad, varied and extensive. His favourite fields were political philosophy and physics both in which he developed an awesome depth of knowledge. He was very thoughtful, intellectually curious and he carried himself with a scholarly disposition.
Politics was a big part of Tonys life. He had a unique take on matters and he would have described himself as a left leaning libertarian. In terms of political activity he was a founding member of the Libertarian Alliance, he worked at the alternative bookshop (a focal point of the Libertarian movement at the time), The National Association for Freedom (later the Freedom Association) and FOREST (Freedom Organisation for the Right to Enjoy Smoking Tobacco). He certainly practised what he preached. He was a self-styled defender of freedom political activist and he put his health and his body on the line for the cause. It is important that this is remembered.
He was always entertaining to debate with and wow, he loved to argue. As a child I would always hear my father on the phone with Tony arguing passionately about some political topic. As I got older and smarter the baton was passed to me and I too would spend considerable time on the phone with him arguing and debating whatever matter was at hand. It really could be anything – political, philosophical, religious, historical, moral, cultural, you name it – he would have a view on it and would argue it. I think he just really loved the sport of it. Verbal sparring must have been one of his favourite things to do and with my father and I, he had some tenacious and willing sparring partners. He could have made a very imposing barrister. I do pity the many hapless victims who would have stumbled into a debate with him unknowing or unprepared for his assault! Debating him was great fun, challenging and at times exasperating – it certainly sharpened up my and my father's oratory skills.
He was an intriguing character with some fun interests. He was a tech savvy early embracer of computers and the internet. He loved science fiction, film and literature. The Lord of the Rings, Star Wars and The Matrix were sources he would often use for analogies or making comparisons from. Working on designing and producing electrically powered roller-skates was a hobby of his. He was a horologist and truly loved the beauty of watches. His prized possession was an Omega Speedmaster pre moon landing watch which he took immaculate care of for 50+ years, it gave him immense joy and he never tired of talking about it. He adored cars and motorbikes and over the years he owned some really cool vehicles. He was a cat person, long after his dear cat Beeper passed away he would affectionately recall stories about how brilliant, intelligent and lovable a creature Beeper was.
"Athens or Sparta?" was a question Tony considered crucial to ask when trying to get an understanding of a person. Of course, with Tony, it was never a simple question but the start of a long, playful and philosophical dialogue. It is very difficult to sum up a character as colourful and complex as Tony but to do so in one word I would choose "Athens". He was unquestionably "Athens" and I think he would be happy with that.