The Cold War ended a quarter of a century ago. Some are forgetting about it, others are never even learning about it. Many others are deliberately forgetting about the Cold War, because it, and how it ended, made them look bad. But the Cold War needs to be remembered. What it was. What it meant. And why it was such a good thing that the good side won and that the bad side lost.
Sights like this poster, I suggest, which I managed to photograph at Pimlico tube station yesterday before the train I was awaiting blocked it from my view, might help. It is advertising a German series now running on British TV, set during the final years of the Cold War: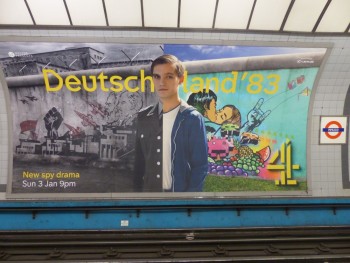 I have not been watching Deutschland 83. Comments from any who have would be most welcome. If such comments materialise, I would not be surprised to learn that it contains many little touches of moral equivalence, inaccuracy, and deft little claims to the effect that the winners of the Cold War won it by mistake and that the losers of the Cold War lost it on purpose. I don't know, but fear the worst on that front. (A little googling led me to this piece, which, with its typically snearing Reagan reference, does not reassure me.)
But meanwhile, the above poster struck me yesterday and strikes me still as a breath of fresh, clean, truthful air.
I particularly like the colour contrast. I further like that Marx and Lenin get blamed for this colour contrast. I like that there is barbed wire on the bad side but none on the good side, grim and grey sky on the bad side and blue sky on the good side, privation and militarism on the bad side and an abundance of tasty food, romantic pleasure and technological inventiveness on the good side.
Perhaps the makers of this poster – and if not them than at least some of those distributing it and displaying it in this country – thought that they were being ironic rather than truthful. Perhaps some of these people think that this poster does not so much present truth as mock the truthful opinions of people like me and my fellow Samizdatistas, for being "simplistic". If so, to hell with such anti-anti-communist imbeciles. I prefer the truth about the Cold War and I rejoice that this poster proclaims that truth, especially to people who may not now be aware of it.