I have been spending a bit of time in Foyles, recently. It is my favourite bookshop in London for the vastness of its selection, though if any readers know better I am all ears. It does contain, however, the bookshelf from Room 101: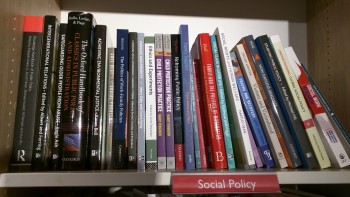 Can you imagine what kind of dinner party guests these authors would make? Just look at the blurb on the back of the Fischer book:
In recent years a set of radical new approaches to public policy, drawing on discursive analysis and participatory deliberative practices, have come to challenge the dominant technocratic, empiricist models in policy analysis. In his major new book Frank Fischer brings together these various new approaches for the first time and critically examines them. The book will be required reading for anyone studying, researching, or formulating public policy.
Required, good and hard, as punishment for being involved in such a dismal endeavor, perhaps. Opaque writing like this always makes me wonder if there is real content to be dug up. I had a quick look inside. Irritatingly, from the point of view of trying to poke fun, I found (on page 170) what might be some insight.
It is common in politics to portray our opponents as engaging only in 'rhetoric': that is, concealing the real story, they offer us a version of events constructed to promote their own interests and concerns. Missing from this view, however, is the recognition that all politics operates this way. Symbolic representation, in short, is basic to political argumentation. […] An important feature of symbols is their potential ambiguity. Symbols often typically mean two (or more) things at the same time: 'equal opportunity in education can either giving everybody tuition vouchers for the same dollar amount', or it can mean 'providing extra resources for those with special needs'

[…]

For the empiricist conception of science, of course, this is problematic. The interpretation of events, social as well as physical, has to remain clear and constant for the work of the empiricist.
I have written before about the problem of language being used deliberately to muddy thinking. It seems likely that, since libertarianism is correct, looking at the world empirically leads inevitably to it. Therefore libertarians are likely to be empiricists. And bad at rhetoric, and therefore bad at winning at politics. (And often more interested in more empirical pursuits, like building rockets.)
Can we possibly beat them at their own game? I used to think that just sticking to the facts of the matter in debate would be good enough. That on-the-fence observers would detect who was making the most sense and pick the right side. I am starting to think that rhetoric has its place: if you really want to convince people, and, empirically, people are convinced by rhetoric, perhaps it is unavoidable.
Vox Day, in what amounts to a manual for beating Them at Their own game, wrote a whole chapter on it. He quoted Aristotle: "Before some audiences not even the possession of the exactest knowledge will make it easy for what we say to produce conviction. For argument based on knowledge implies instruction, and there are some people whom one cannot instruct." Mr Day goes on to explain:
I strongly prefer communicating in dialectic myself, but that is a language reserved for those who are intellectually honest and capable of changing their minds on the basis of information. So I speak dialectic to those capable of communicating on that level, and I speak rhetoric to those who are not.
Before I even opened the Fischer book I found myself writing, in a Facebook discussion about heavily drinking relatives who had nonetheless lived to a grand old age, in response to others who complained that this was mere anecdote: "Anecdote is not evidence but it *is* rhetoric, and you need to develop good rhetoric to win at politics." I am beginning to see how I might start to use rhetoric without feeling dirty, as a means to a well-intended end. I am not sure whether I would be any good at it, though. Worse, I sense that it is the road to hell.