I understand why NickM, for instance, complains about all the people waving Je Suis Charlie signs at the recent Charlie Hebdo demos just over a week ago. But at least there were demos (Hebdemos?), and big ones. Whatever the finer points of the relationship between Islam and the rest of us, thousands upon thousands of people, in France millions, disapproved of cartoonists being killed, no matter how offensive anyone might think they had been, just because of various cartoons they had done. I agree that disapproval is not much. Ooh, they disapprove. But it's a start. I mean, would you rather that all those millions of demonstrators had just shrugged their shoulders, stayed indoors and forgotten all about it?
And yes, there was plenty of hypocrisy involved, on the part of public personages who, only weeks or days before the attacks, had been saying more like: "Je Ne Suis Pas Charlie", and who will be saying much the same as that in a few days or weeks time. But I prefer hypocrisy and inconsistency to brazen wickedness. If you demand consistency from public figures, you are liable to get consistent stupidity and consistent wickedness. The public attitudes that public people feel they need to strike, even if they strike them very insincerely or in a way that contradicts other things they have earlier said and done and will later say and do, still count for something.
I attended the demo in London's Trafalgar Square, and I made a point of photoing signs that said other things besides Je Suis Charlie, of which this was my favourite: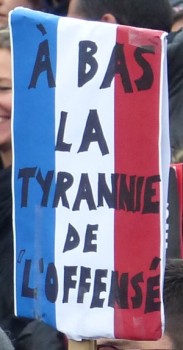 For the benefit of those with no French, that means (unless my French is letting me down badly) something along the lines of: "Down With The Tyranny of The Offended". Good one. See also the earlier posting here, in which our Prime Minister is reported as standing up for the same idea. And, see my paragraph above (which I had already written before that earlier posting had appeared) about how the public attitudes of public people do matter, however occasionally and inconsistently they may be expressed.
This next sign might have been my favourite. But, that T for Team looks too twiddly, and not clear enough and assertive enough. It's like the guy who wrote the sign was just taking dictation and didn't really mean it.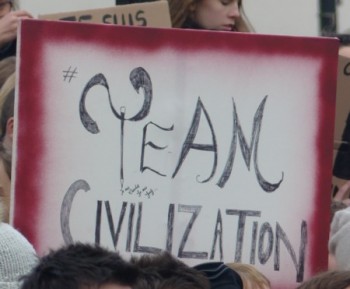 Or, it could just mean that here were some people demonstrating who had not done any such thing before. Because, this was not your usual demo, the sort of demo perpetrated by the demonstrating classes, so to speak. Which was another big plus, from where I was standing, photographing everything I could see.
You can view other photos that I took of signs that afternoon here.