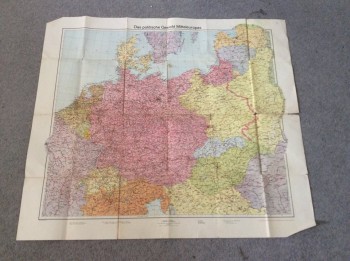 Partly due to despair at my unwillingness to decorate my flat in any way whatsoever, and partly because she knows I like this kind of thing, a friend of mine sent me this antique map of central Europe as a gift. She obtained it in an antiquarian map shop in Krakow, Poland.
First, obvious observation. This is a map from Nazi Germany. In the margin, it is identified as being the product of a mapmaker in Leipzig, but there is no date given.
Secondly, when I see a historical map, I like to play the game of figuring out the dates of the map by looking at the border, and using my historical knowledge of political geography to narrow the date down.
Figuring out the year of this map is easy. This map is from 1939. In most instances, getting the year is all you want to do. However, 1939 was a somewhat problematic year.
Klaipeda and the area around it is shown as part of Germany, not Lithuania. Also, Czechoslovakia has ceased to exist, Bohemia and Moravia has been annexed by the Reich, Slovakia is a supposedly independent country, and Carpathian Ruthenia has been invaded and annexed by Hungary. All these events occurred in March 1939, so the map was clearly designed after March 1939.
It's looking at Poland that things get interesting. Firstly, Danzig is not shown as a free city, but is shown as part of the Reich. Danzig was invaded by Germany on 1 September 1939, proclaimed part of Germany on 2 September, and formally annexed under German law on 8 October. Danzig had, however, been under the control of the local Nazi party since 1933, and would have joined Germany instantly if it had been allowed to under international law. Is it possible that some German maps showed Danzig as part of Germany prior to September 1939? Possible, but I suspect probably not.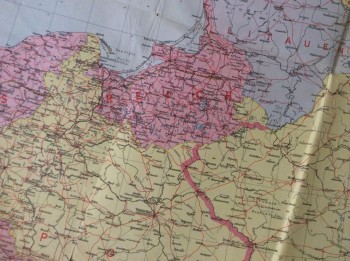 By far the most fascinating thing in this map is the red line through Poland, however. Poland is clearly identified as "Polen", but the Molotov-Rippentrop line – it the limits of German occupation after the invasion of Germany in September 1939 – has been drawn through it. Therefore the map must have been printed no earlier than September 1939. This has clearly been printed at the same time as the rest of the map – it is not something someone added with a pen later, or anything like that.
What I suppose is possible is that the mapmaker had a map prepared reflecting recent border changes immediately prior to the German invasion of Poland in September 1939. When the invasion occurred, the map was quickly modified to show Danzig as German and the zones of German and Soviet occupation before being printed and sold.
And yet, this map does not reflect the view of the world that the Nazis wanted to present. Upon invading Poland, they declared that Poland as a country did not exist. On that same date of October 8, Germany formally annexed the northern and western sections of their Polish conquests (including the Suwalki triangle, clearly shown on this map), and declared the South-East to be the "General-government", essentially a German colony (but not a "Germany colony in Poland", as Poland did not exist). This map is therefore curious, as it essentially shows Poland (clearly identified as Poland) under German (and Soviet) occupation.
I cannot imagine maps like this being printed in Germany long after the annexation decree of October 1939. In the Nazi view, there was no occupied Poland the way there was later an occupied France. There was simply German territory that unfortunately happened to have Poles, other Slavs, and Jews living in it. It's easy to imagine foreign maps from later showing the German and Soviet occupation of Poland like this, but German ones, not so much. So my conclusion is that this map was printed very soon indeed after the German invasion of Poland in September 1939.
Plus of course this map ended up in an antiquarian map shop in Krakow in Poland, which between 1939 and 1945 was in that aforementioned "General Government". One has no idea how and when it got there, but I suspect that "during the occupation" is the most likely answer.
Thoughts anyone?