I see that Instapundit has become aware of Parkinson's Other Law, the one about custom-built headquarters buildings. This is the law that says that any organisation which builds itself a brand new headquarters building is heading for disaster.
Instapundit links to a Wired piece about Apple's new mega HQ, which does indeed look like a recipe for corporate disaster. This new Apple enormity looks a lot like the GCHQ building in Cheltenham, which was completed in 2003, after that organisation had participated successfully in two major wars – WW2 and Cold. But that Apple scheme has been around for a while. The latest HQ building news comes courtesy of Amazon: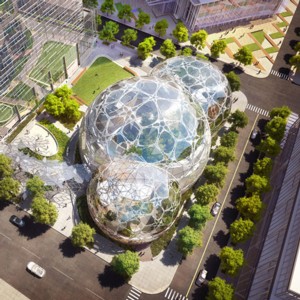 Pity. I really like Amazon. I hope its death throes are prolonged enough not to derange me too much. I hope, that is to say, that in the near future, it is Amazon's shareholders who suffer most of whatever Amazonian grief is about to erupt. However, I do fear that if, as a result of a share price collapse, Amazon then tries to be profitable, this might hurt us now-very-happy customers quite badly too.
Immediately after the Dezeen piece linked to above, about the new Amazon HQ, there came another piece, about a new Twitter HQ. But, although suspiciously well designed (hence it being noticed by Dezeen), this is to be in an already existing building that used to be a furniture store. This is the right way to contrive a new headquarters building, if you really must have such a thing at all.