It has been less than 42 years since a US President ordered his minions to break in to the opposition party's headquarters in an effort to conduct espionage directed at undermining them.
Now, thanks to the NSA, no one would need to physically break in to anything — a few calls would be sufficient.
People keep talking about the current NSA scandal as though privacy was something intended to keep your neighbors from finding out you listen to embarrassing music — an understandable desire but ultimately of no great importance. To believe that is why people need privacy is to completely misunderstand what is at stake here.
Richard Nixon really existed, and was really elected to office. The problem is not a hypothetical one.
Consider just for a moment what an unscrupulous President, like Richard Nixon, equipped with the information already available from the NSA could do to his political opponents, to reporters trying to find out the truth about his activities, to anyone he thought of as being "in the way". Consider how much easier it would be for such a President to find his enemies given what the NSA has already built.
Total Surveillance Means Absolute Power.
The surveillance systems that have been developed by the NSA are too dangerous for us to permit to exist.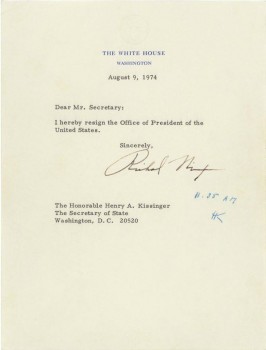 (39 years ago almost to the day.)